HOW TO STACK RINGS LIKE A PRO

Ring stacking is when you layer up your rings, either on one or on multiple fingers, to add different textures and curate your own signature jewellery style. Ring layering is a great way to rotate your ring collection or partner your everyday faves with new and exciting pieces.
Here at Astrid & Miyu, we live by a philosophy of individualism and experimentation. We simply love seeing all the different ways you can express your personality through jewellery stacking, whether it's earring stacking, necklace layering or - of course - ring stacking. In this guide, we offer up our favourite hints for layering rings like a jewellery pro.
THE GOLDEN RULES OF RING STACKING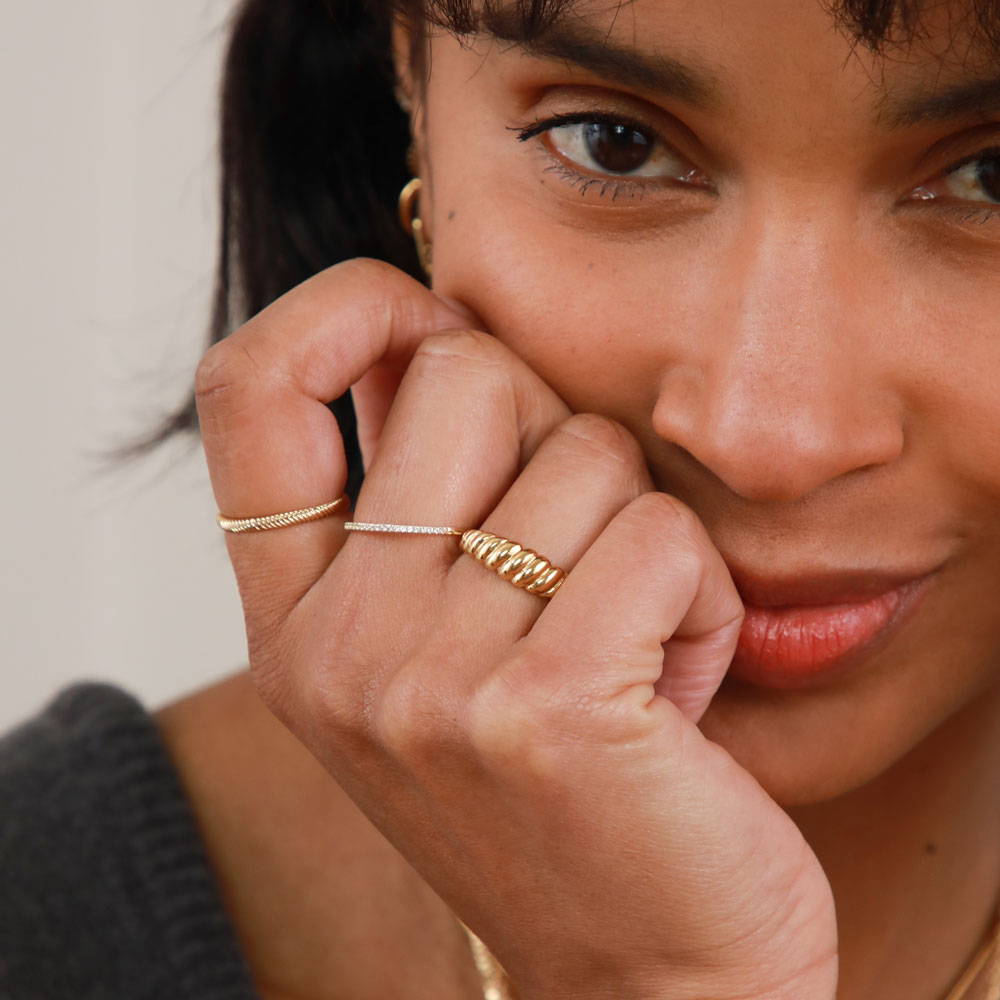 Create lots of variety in your ring stack by combining different textures, colours and styles.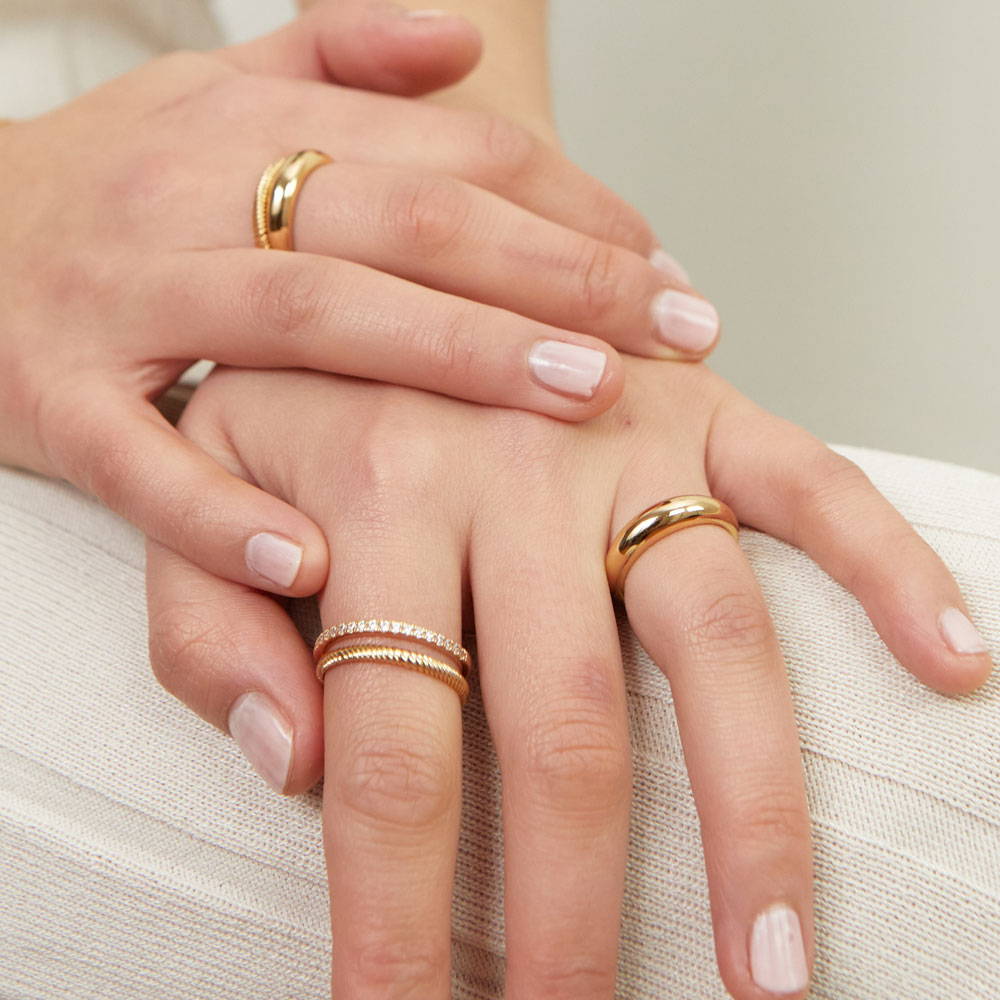 Don't focus ALL your ring stacking attention on one hand, add some detail to both to create your own offbeat symmetry.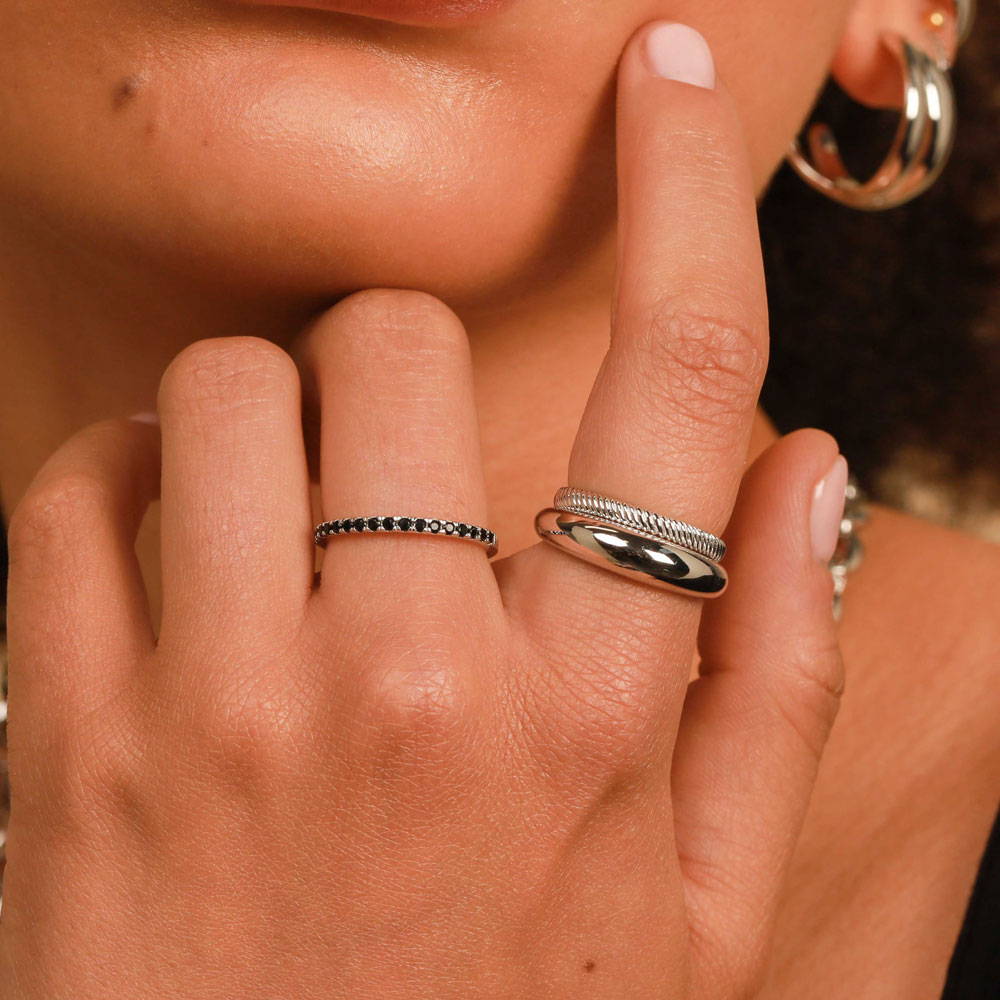 Consider Your Focal Point
Pick one ring as your hero ring, and build up from there. Chunky rings or rings with a particularly eye-catching stone (hello engagement rings) are ideal starting points for your stack.
5 STYLING IDEAS FOR LAYERING MULTIPLE RINGS
Look 1 - Chunky Ring Stack
Layering with chunky rings is all about creating a heavy, textured look that is simultaneously confident and cool. We recommend opting for just 2 or 3 statement chunky rings (two for one hand and one for the other) and then complimenting with thinner bands to add contrast. Signet Rings are particularly perfect for your chunky ring stack.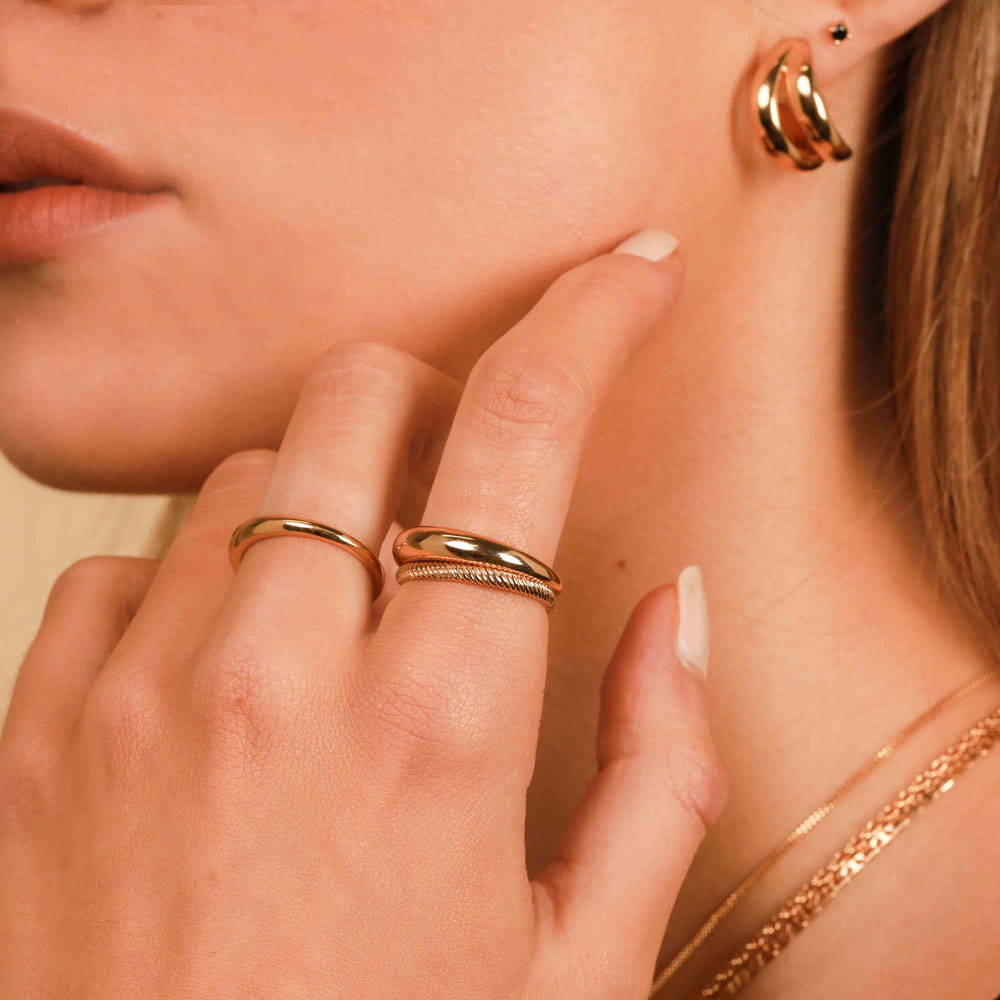 Look 2 - Mixed Metal Medley
Mixing up your ring stack with gold, silver and even rose gold rings is the perfect look for those who yearn for a spot of playful rule-bending. A mixed metal stack means that you can wear all of your favourites at once, regardless of plating, and creates a look to reflect your devil-may-care individualism. Our stylists suggest alternating your colours to avoid too much monochromatic bunching.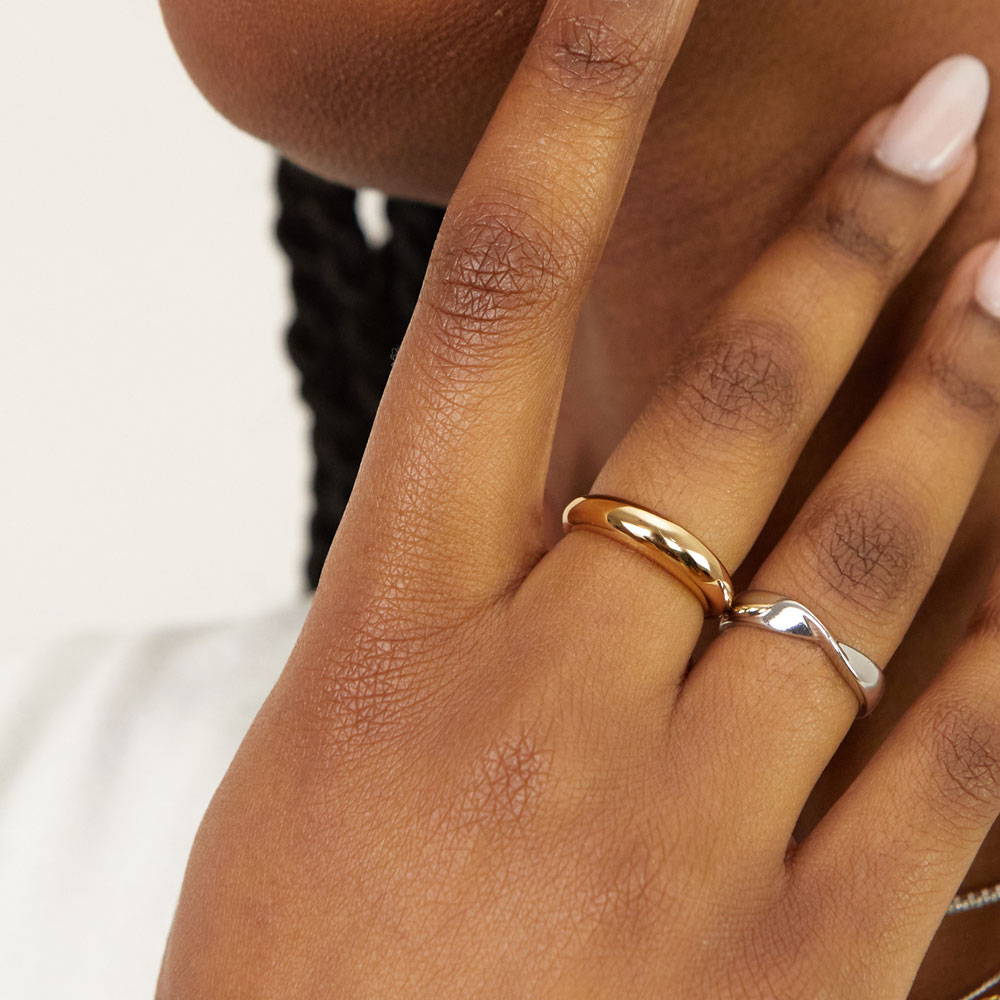 A ring stack doesn't necessarily need to be made up of loooaaads of rings. A subtle or more dainty ring layer can be extremely elegant. You can choose to adorn just one finger with two or three simple yet statement pieces, or else spread a small number of delicate rings across both hands. Because simple doesn't have to mean basic.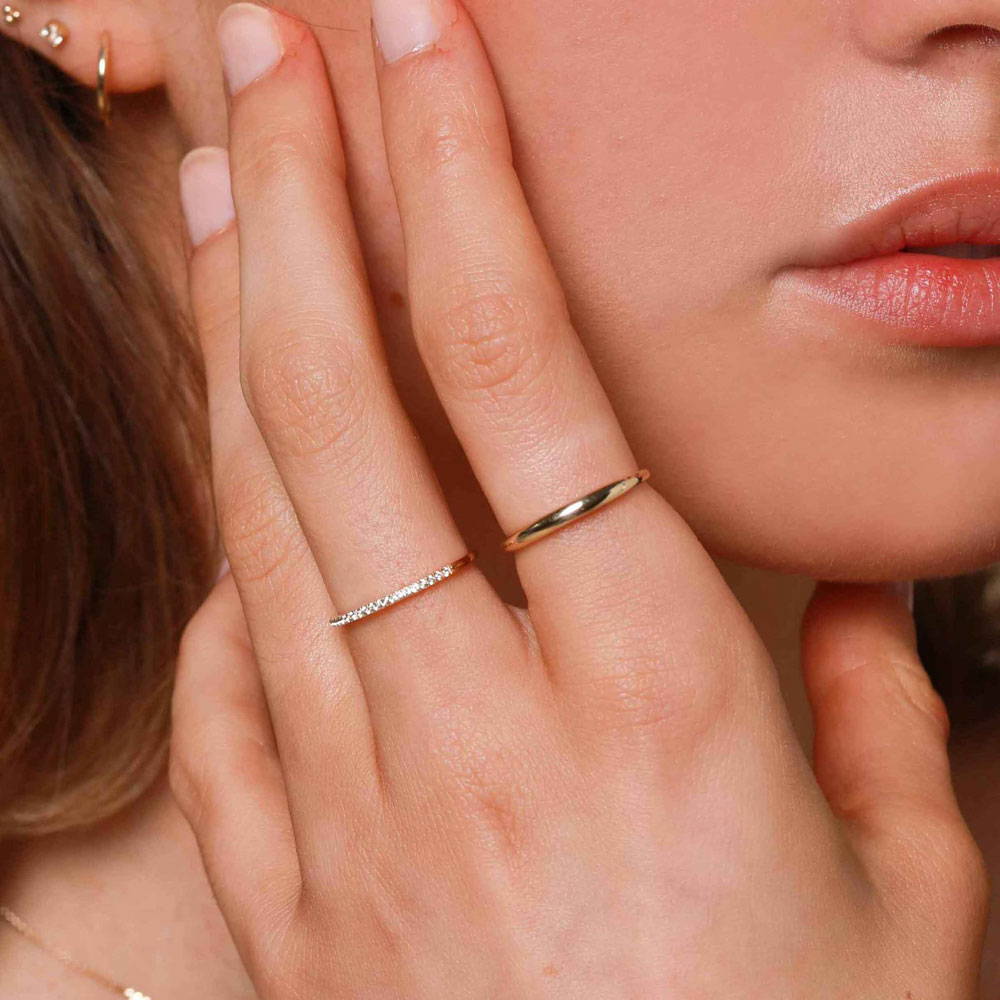 Minimalism isn't for everyone, so perhaps a maximalist ring stack is more your thing, with a higher number of rings and more creatively clashing chaos. Maximalism is all about combining textures, colours and styles to customise your own loud and proud ring layer. Why not try our multi-coloured iridescent rings for a rainbow ring stack?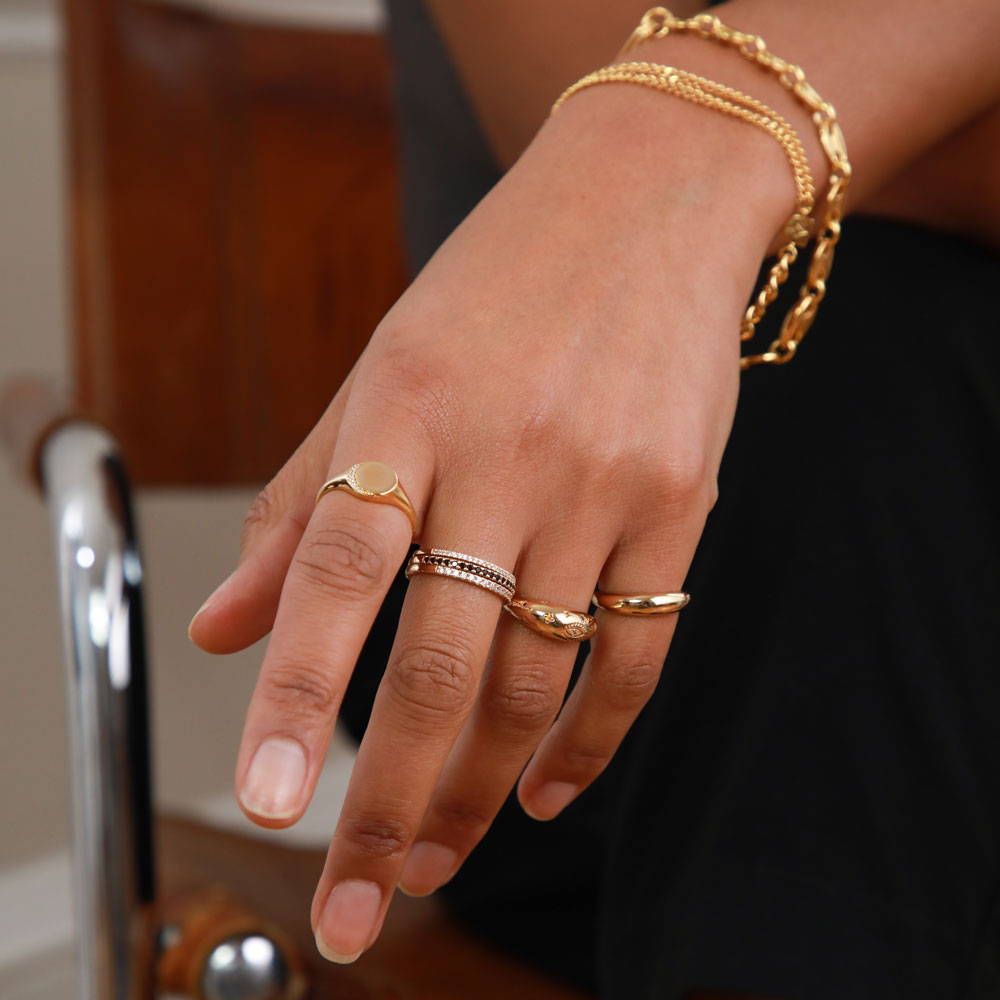 Our final ring layering look is a ring stack that is perfect for a sparkle finatic. Especially when partnered up with simple band rings to really let them shine, crystal, gem or stone rings love being at the heart of your stack. Our Navette Crystal Bands work particularly well as the shining centrepiece to your jewellery look.