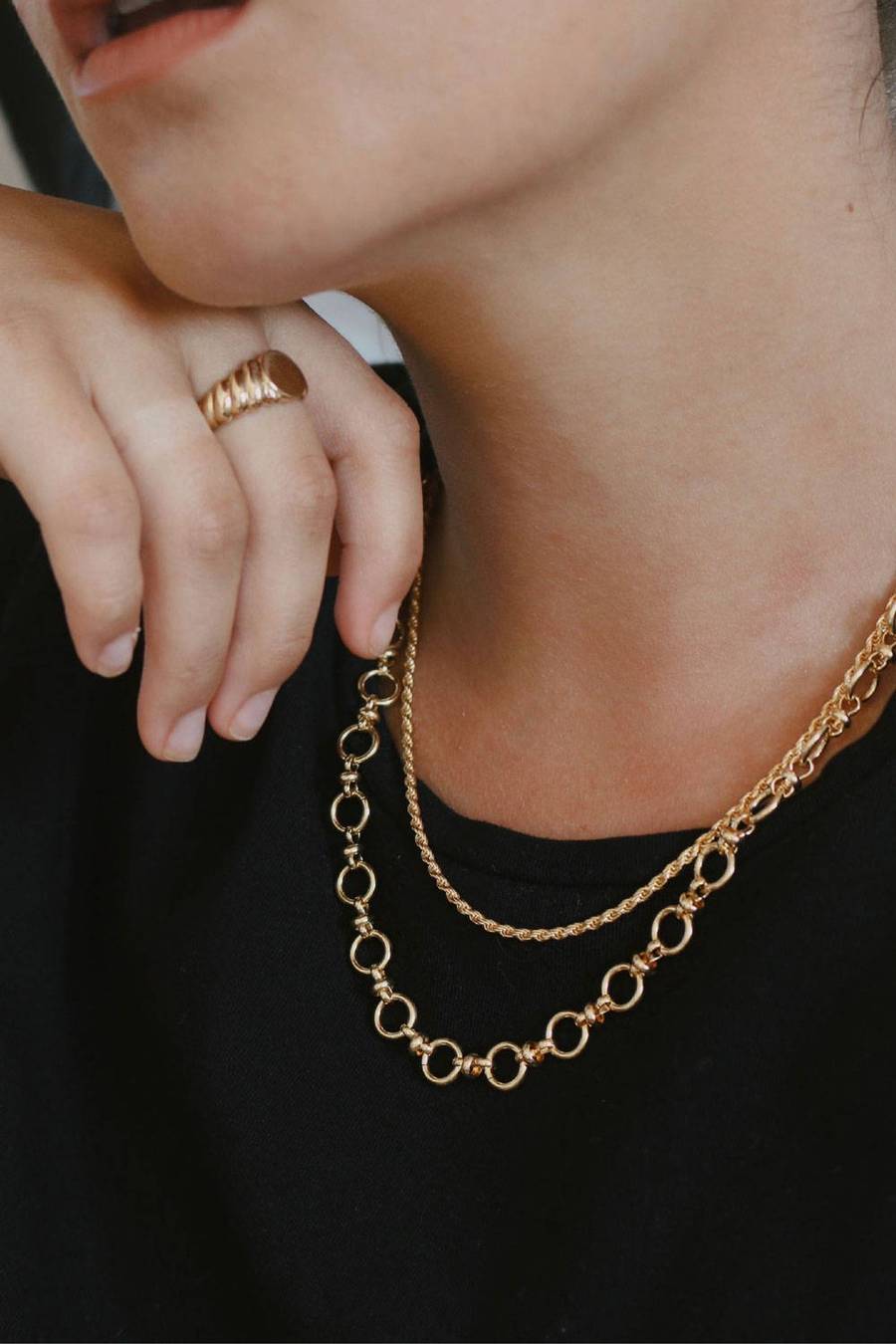 Stack, style & detangle
THE ULTIMATE NECKLACE LAYERING LOOKBOOK
At A&M, we're dedicated to bringing our customers what they want. Whether that's high quality jewellery, the perfect stacking inspo or even the most instagrammable piercing studio. You spoke and we listened, so here it is, the ultimate guide to necklace layering, loving and styling. We will give you the Do's and Don't when it comes to necklace stacking, the how-to style depending on your neckline and even top secret detangling tips. Style is often experimental, so there is no right or wrong way to do it. Experiment with different styles, layers and textures and see what works best for you.
Back to articles
HOW TO LAYER NECKLACES...
Pick your intended focal point
The best choice of focal point is usually dependent on your neckline. High and very low necklines are of course the easiest to work with because you have the most amount of canvas. First think about where you're comfortable with people being drawn to, then think about the chain. This could be a long chunky pendant necklace to draw someone's eye further down or a dainty choker to bring more attention to the high décolletage area.
Vary necklace length
Length is extremely important when layering - necklaces of the same length will tangle easier. Also, you want your necklace combos to be the right length to fit whatever neckline you're wearing. So, go long if you're wearing a deep V-neck dress, or keep it shorter if you're going for a high neck vibe. Looking for necklaces for a turtleneck? Wear your necklaces over the top of your rollneck and go statement with varied lengths!
Three is the magic number (sometimes)
Layering your necklaces can really be as easy as 123… If you're new to necklace stacking, carefully choosing 3 different necklaces can be an easy and effective way to curate an adorable look! Odd numbers create nice variety and the option to sandwich your favourite pendant in the middle. Of course, this isn't a golden rule - more or less than 3 can also look cute.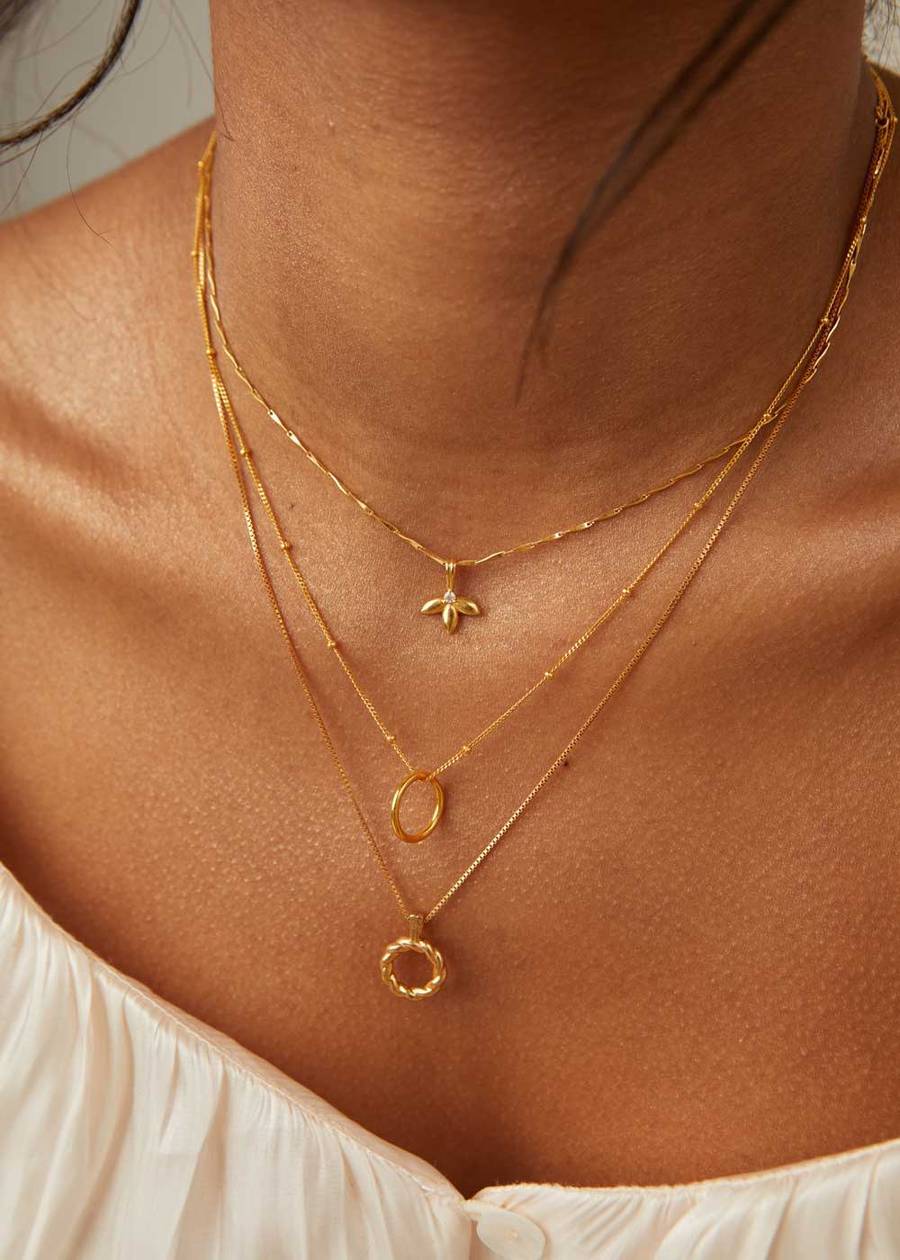 WHAT TYPES OF NECKLACES LAYER WELL?
Layering necklaces is an art and when you master it, it can be absolutely dreamy. Start with picking your shortest chain first, so a choker or shorter pendant necklace, then build out from there. Adding different textures along with lengths can also make an incredibly unique statement. Mix dainty with chunky, small links with larger links and gold with silver if you're feeling extra daring. If you're new on the stacking/layering journey then try this one out... A couple of dainty chokers, with a slightly longer pendant necklace and a chunky chain. Teamed with a high cut white tank top for a cool, effortless vibe.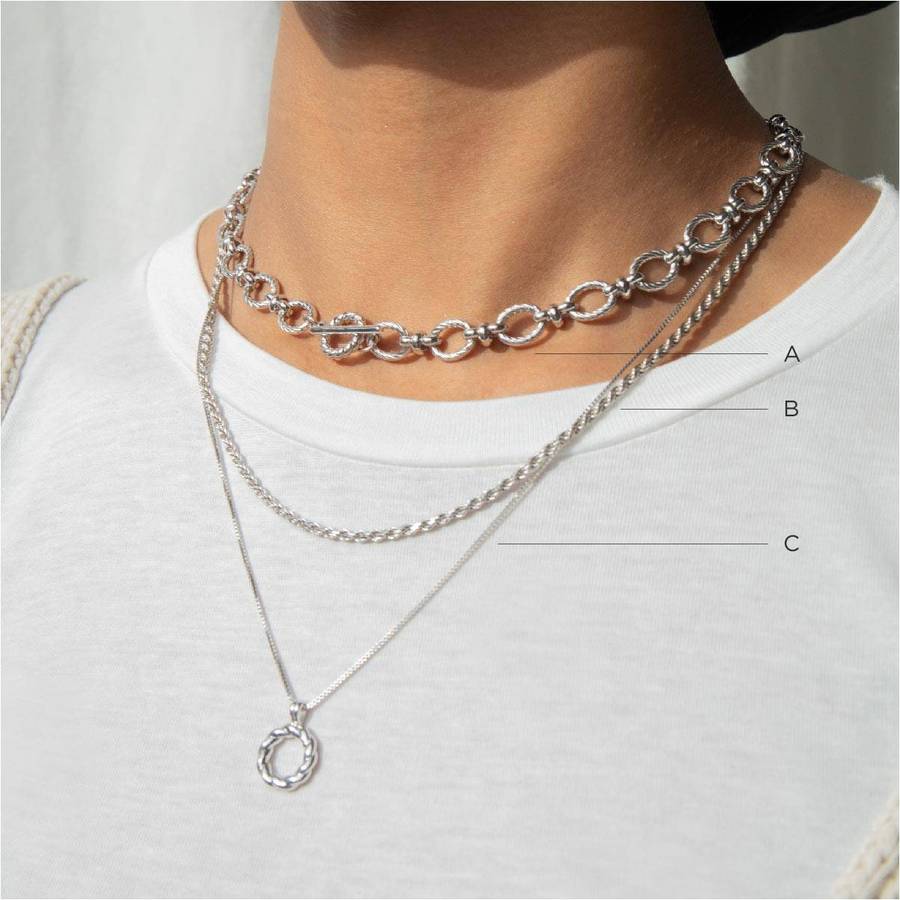 Choker Necklaces
Why are chokers good necklaces for layering?
A choker is a close-fitting necklace worn around the mid to base of the neck. Chokers are classic, stylish and wide-ranging, you might not know it, but there are actually lots of different styles of chokers. Who remembers the tattoo chokers from the 90's? Iconic!
The choker is the perfect necklace to start or finish off a layering look. They are often subtle but a true layering goddess knows they can make or break the look.
Charm and Pendant Necklaces
How do I layer pendant necklaces?
Having a pendant or charm necklace is an ideal way to create a focal point among your layered necklaces. You can use the pendants to add a certain individuality to your look, whether it be a charm with a powerful meaning or a gorgeous glimmering stone to add a little sparkle.
Pendants work well amongst necklace layers, as it gives some definition to the look rather than being just a mixture of chains. The pendants and charms make it easy to layer up a unique and eye-catching look.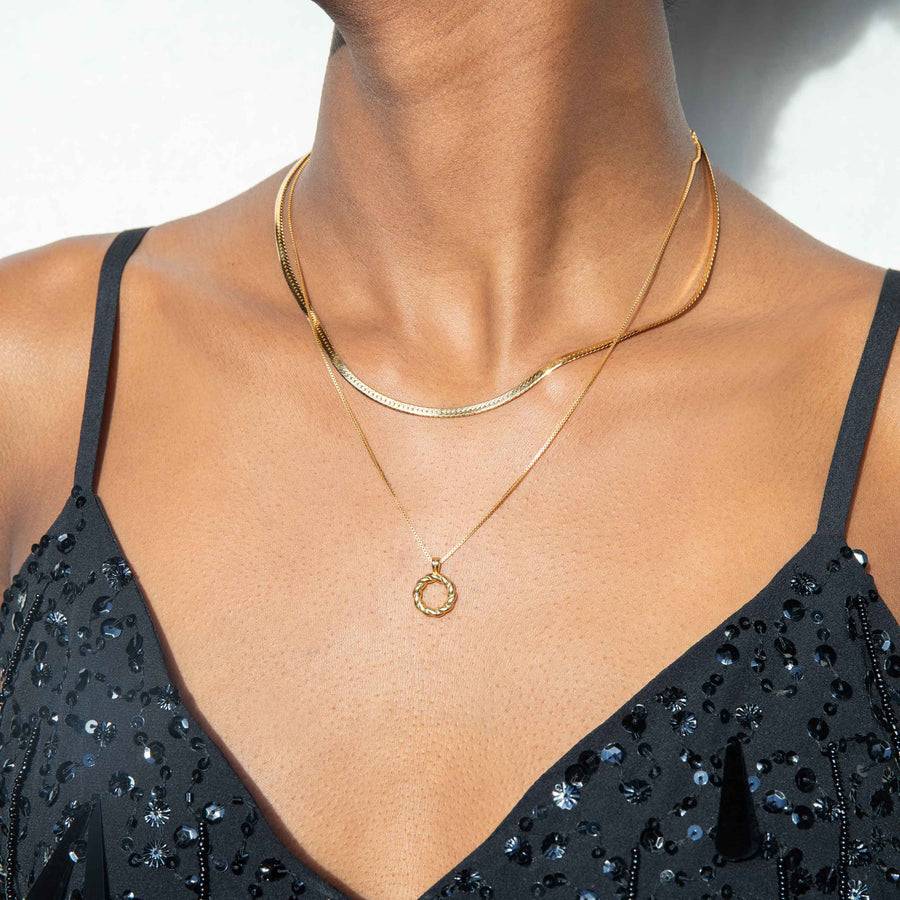 Chain Necklaces
What's the best way to layer chain necklaces?
Texture and length is key with plain chain necklaces. Once you have on your dainty choker and small pendant necklace, add a longer chunky chain and you can see how this completes the look. The variety of length and texture brings everything together and makes a somewhat imperfectly perfect symmetry of chains.
HOW TO STOP LAYERED NECKLACES TANGLING?
1. Mix up the weight, material and thickness of your necklaces
Generally necklaces that tangle together are ones that are similar in thickness and weight, so variety will help prevent tangling. By choosing varying lengths and weight, all the chains have a chance to lay flat, instead of tangling together.
2. Invest in anti-tangle products, like spacers
Necklace spacers are brilliant little clasps you add to the back of layered necklaces to help keep them apart. Instead of all the necklaces gathering in the once spot at the nape of your neck, they are spaced apart slightly to avoid tangling. The dream!
3. Store your necklaces properly
There are lots of lovely ways to store your necklaces these days, whether it's a beautiful jewellery box, a trinket tray or a jewellery tree. For necklaces, we would suggest a jewellery box big enough to store each chain separately or a jewellery tree is a beautiful display feature and is the best at keeping tangles at bay.
4. Put them on in the right order
Weigh your lightest necklaces down by putting heavier necklaces on top. When light chains are loose and able to bounce about when you wear them, that's when they're more likely to tangle with those beneath them. If these light necklaces are the first you put on, that's less likely to happen.
5. Use paper straws
There's no worse feeling than arriving on holiday & your necklaces are in a big tangled mess. When travelling, a top tip would be to thread the chain through a paper straw keep your necklaces neat & tidy.
Can you mix metals when layering necklaces?
Mixing metals is definitely on the increase, style-wise. While keeping the same metal throughout is quite classic and old school, there is a certain je ne sais quoi that mixing metals gives to an outfit. Most of you will be new to mixing metals. The easiest is silver and gold. Try a gold chain with a silver pendant or charm and build it out from there!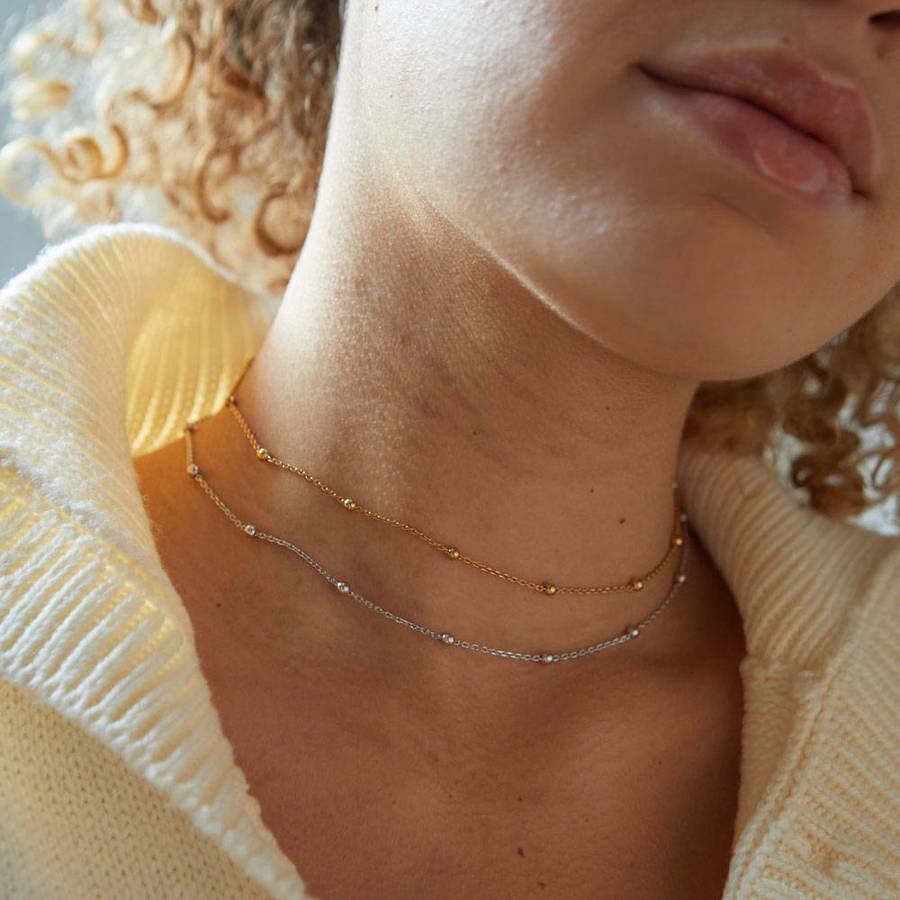 Dress it up
The devil is in the detail when it comes to dressing up a necklace stack. If your outfit is simple, feel free to go a little more wild, Double up on the chokers and add a few embellished chunky chains. For an extravagant outfit, keep it simple with only a few dainty layered chokers and chains.
Dress it down
Opt for fun charms or mixed metals when it's a more dressed-down occasion. Adding a t-bar chunky chain and charms with a relaxed t-shirt is a combo that never fails. Whether you're just hanging out with your closest friends or wanting to look glam while chilling at home, necklace layers are the perfect way to partner cool with casual.
Necklace Layering Inspo
We've of course included inspo from all of our A&M babes. We love seeing all your stacks so tag us #inAM in your fave necklace layering pieces and you might see yourself on our feed very soon...