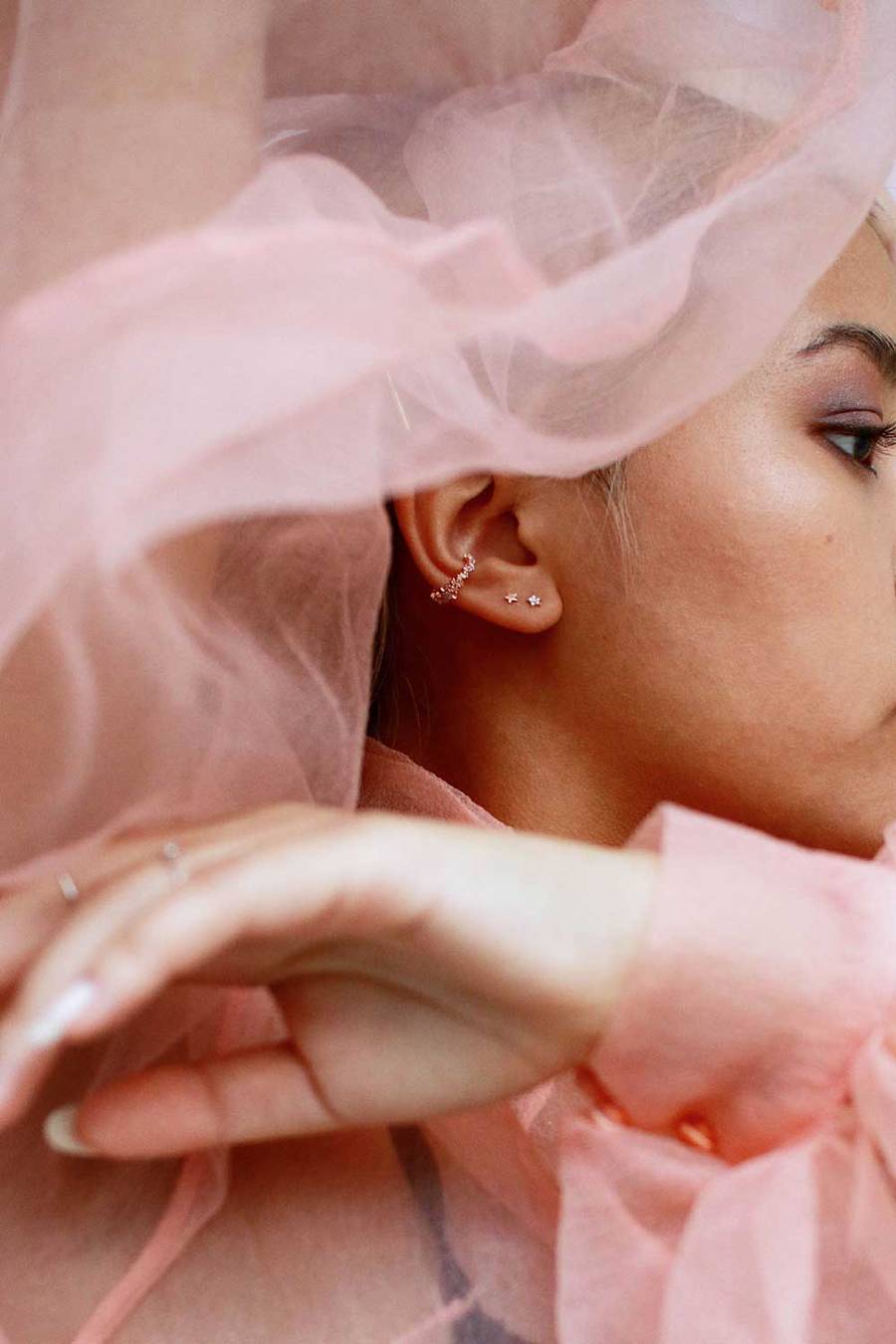 Astrid & Miyu's ultimate guide to ear piercings: how to choose, style, and care for your piercings
THE EAR PIERCING BIBLE
Piercings are a great way to curate your own style and add a spot of sparkle, but there are so many different options to choose from. You have to decide which jewel to get, where to put it, how to style it... it's hard to know where to start! Worry no more. That's why we've put together our Ear Piercing Bible, your one-stop-shop for all things piercing, to help you decide. Did you know that we have piercing studios in London & Manchester? Find out more about getting pierced by A&M in our pretty pink piercing studios here.
Back to articles
Piercing Glossary - 11 Common Ear Piercing Types
For such a small body part, there are loads of different options for ear piercings! Our glossary below explains all their names (so you can ask your piercing for exactly what you want) and the types of earrings they are typically pierced with.
1. Lobe Piercing - pierced with a stud or hoop
2. Upper Lobe Piercing - pierced with a stud or hoop
3. Snug - pierced with a stud
4. Conch - pierced with a stud
5. Helix - pierced with a stud or hoop
6. Outer Conch - pierced with a stud
7. Anti-Tragus - pierced with a stud
8. Tragus - pierced with a stud
9. Daith - pierced with a hoop
10. Rook - pierced with a stud or hoop
11. Forward Helix - pierced with a stud
Which ear piercings hurt the least
Lobe piercings are typically the least painful on the ear because it's fleshy as opposed to cartilage, which is why they also have the quickest healing time (usually 6 - 12 weeks). As one of the thickest pieces of cartilage, piercings to the tragus are often considered the most painful.
However, pain is completely unique and different people find different piercings more painful than others. We recommend that you choose the piercing that you really want rather than which is said to hurt the least.
What earrings to choose for a new piercing?
When you get a new piercing, you can choose what style the piercing is done with... studs, hoops or even dangles. Our recommendation is to start small, opt for a quality metal and remember that you've got to keep your piercing jewellery in for a few weeks, so choose something you love!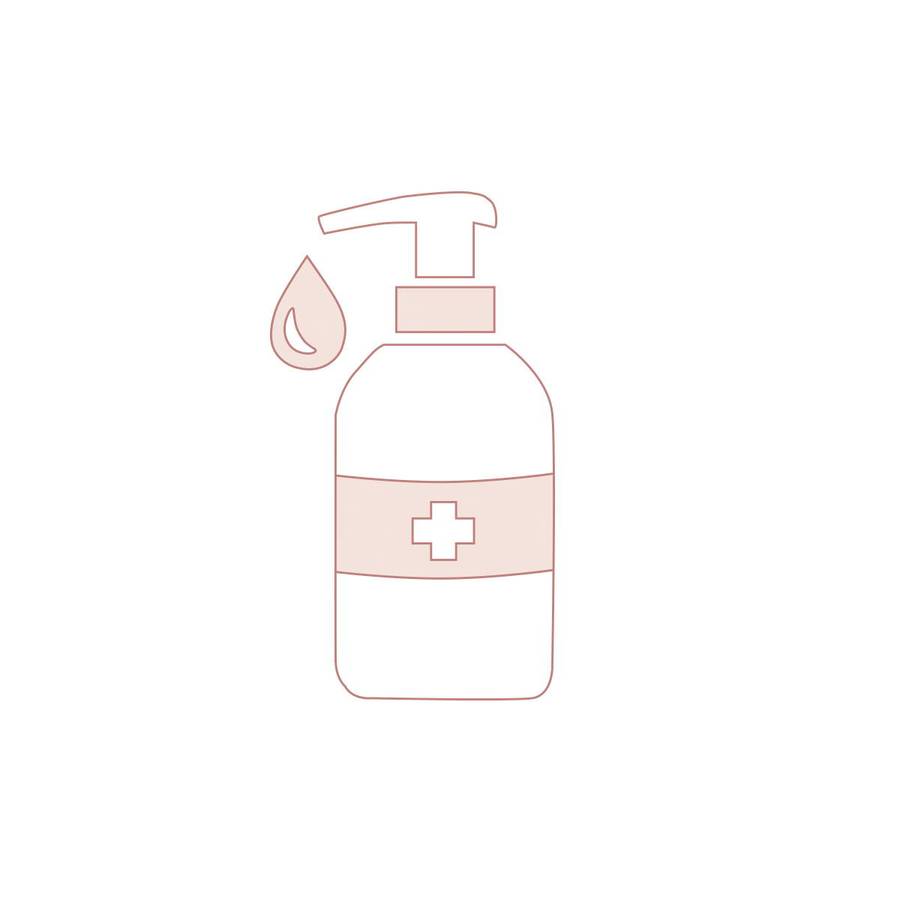 Our Piercing Jewellery Collection
Here at Astrid & Miyu, our piercing jewellery collection is specially designed for your new piercing and can be replaced once fully healed. Our piercing jewellery range includes titanium, surgical steel and solid gold styles, so there's something for everyone whatever your budget or style.
As our piercing service is so popular, styles are often in and out of stock, so we would recommend checking with your chosen A&M store if you've got your eye on a particular piece!
How to look after your piercing
Aftercare of a new piercing is extremely important as a fresh piercing is susceptible to infection until healed and some piercings may be rejected by the body. Your piercing will need some special care in order for it to heal properly. The healing time will vary depending upon your age, health status, general diet, lifestyle and care of the piercing site. If your immune system is compromised or your diet is poor then the healing process will be prolonged. After you've been pierced, we recommend cleaning your piercing with a saline solution twice a day until it is fully healed. You should do this for 4 weeks and whenever your piercing is irritated. You can purchase saline solution from our storesor make your own at home. To make a saline solution, mix 250ml of warm water with 1/4 teaspoon of sea salt. Soak a cotton pad in the solution and place it on the piercing for 5 minutes followed by a water rinse.
How to change your piercing jewellery
Want to switch up your jewels? Changing your piercing is all dependant on how your piercing is healing. We recommend waiting at least 6 weeks for lobe piercings and 12 weeks for cartilage. Once this time has passed you are fine to change your jewellery but the piercing may still get irritated from time to time, if this happens we recommend going back to your piercing care routine until it calms. If you are unsure please contact us.
Piercing FAQs
For further advice on ear piercings & after care, check out our full list of frequently asked questions!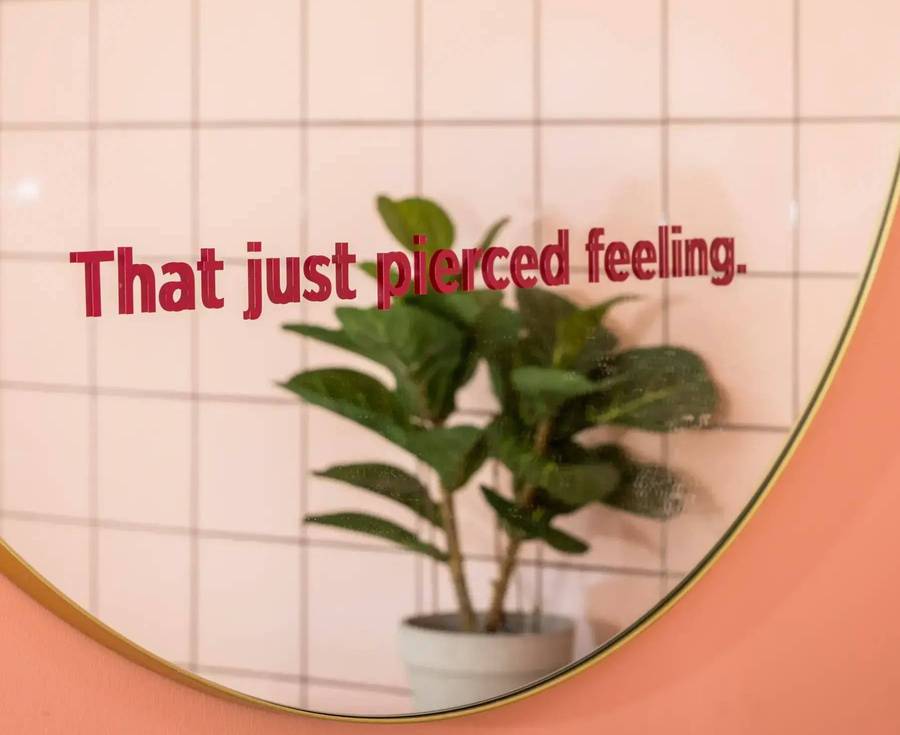 What your piercings say about you...
Piercings are a great way to show off your personality and own unique style. We've therefore picked out our top spots for piercings based on different personality traits.
So whether you're thinking of your next piercing and are wondering what might be the most 'you', or you've already got piercings and you're keen to hear what they say about your style... keep scrolling to discover your piercing personality.
✨Conch ~ daring ✨
You're independent and tenacious - don't follow the crowd. Keep it subtle but cute with a conch piercing. Dress it down with a simple stud or dress it up with an ultra glitzy conch hoop. Besides being really cute, the conch piercing has been associated with easing both chronic and acute pain. This is based on scientific evidence showing that specific acupuncture points in the ear can reduce pain. Could it get any better? Our specially designed conch hoops are here to add some drama and sparkle, alternatively opt for a more minimalist barbell. The choice is yours.
✨ Tragus ~ subtly sparkling ✨
You're imaginative, original and uncompromising. The tragus piercing is anything but basic, especially when you coordinate your jewellery with your lobe. Unexpected and chic, just like you. What's more, the tragus piercing is said to ease of hunger cravings. Depending on the size of your tragus, you can wear a barbell, huggie or clicker in your tragus, so the options are endless. It's the ultimate day-to-night piercing.
✨ 1st Lobe ~ classically stylish ✨
You're dynamic, quick and super stylish. Your 'less is more' approach means a lobe piercing is perfect for you. It's the white tee of the piercing world: a super cute base to build your curated ear. Ultimately, it's great way to inch into the piercing world without full-on committing. You can wear almost any jewel in your first lobe, then add multiple ear cuffs to create your stack without any of the effort.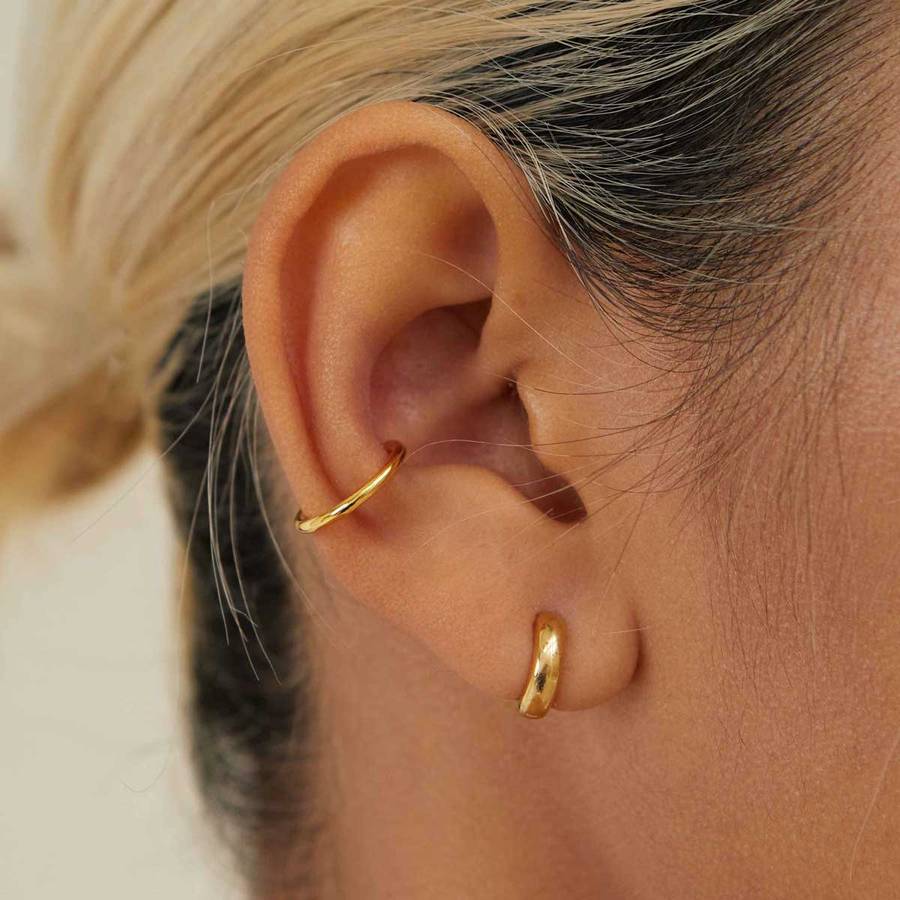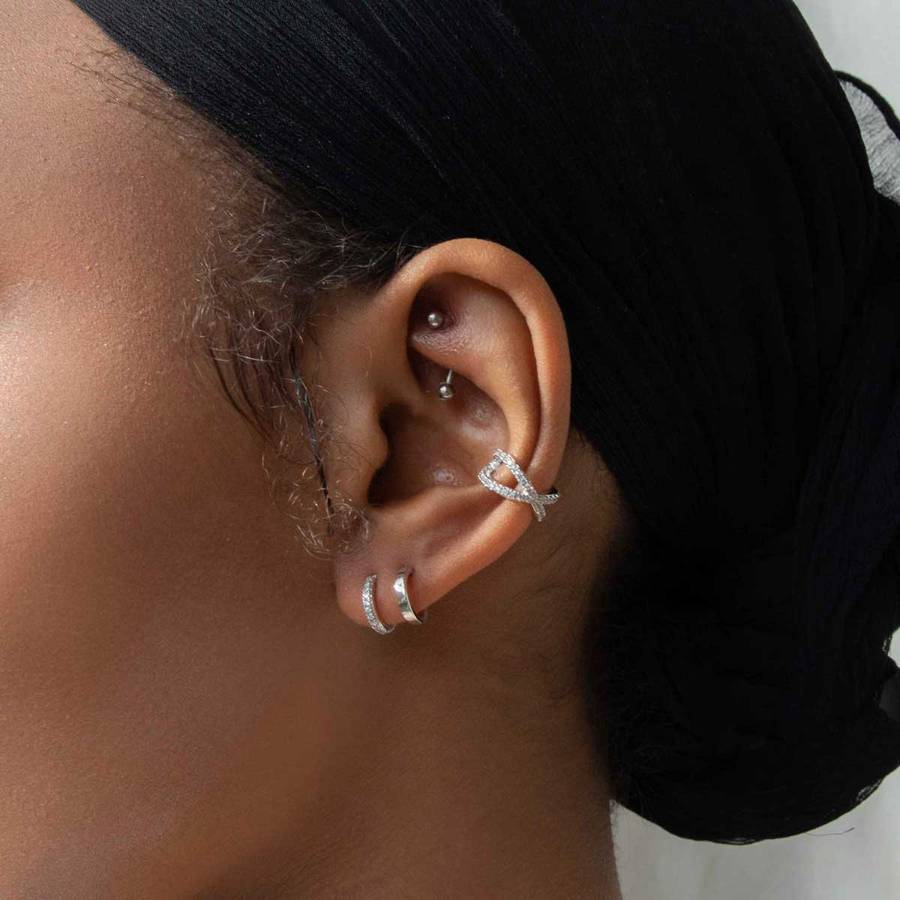 ✨ Helix ~ trend-setter ✨
You're social, diplomatic and gracious. You're looking for a classic look that still makes a statement, so a helix piercing is perfect for you. Team it with a mixture of hoops and ear cuffs to create your own dreamy stack. What's more, some believe that helix piercings can help with both insomnia and allergy relief. Make your helix piercing uniquely yours with huggies, barbells and clickers - all perfect for your helix piercing.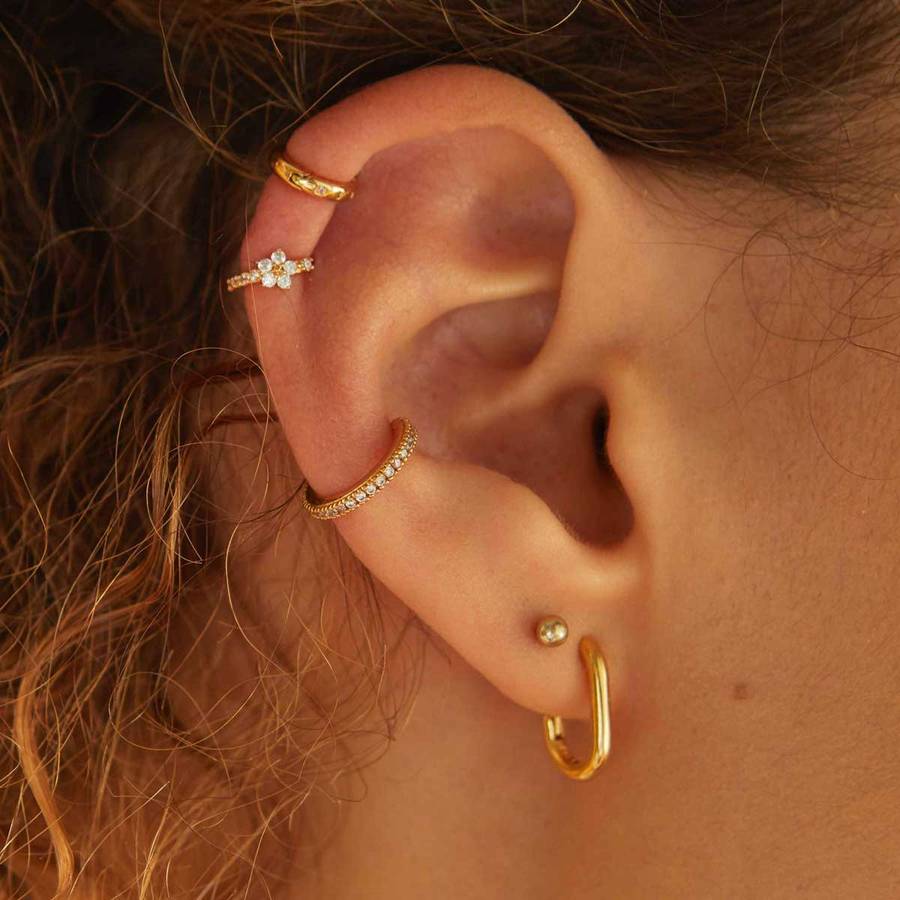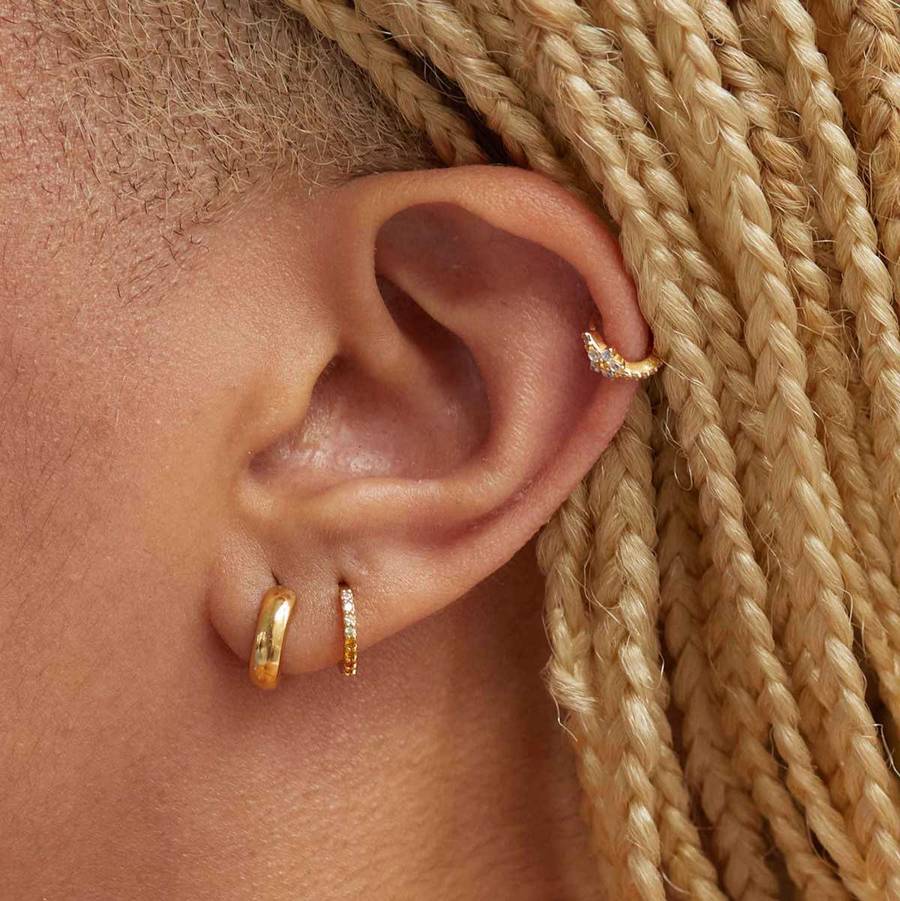 ✨Daith ~ passionate ✨
You're passionate, resourceful and brave, that's why you deserve a piercing as bold as you are. Of all the cool-girl ear piercings, the daith is the most striking, yet simple. If you suffer with migranes, you're in luck. It's said that the daith piercing is the most common piercing to help ease the pain. Most people find that the daith piercing is the easiest to heal due to it's placement inside the ear. Unlike the helix, it won't get caught on your clothing or your hair. It's also easier to sleep on as it's mostly protected by the rest of the ear.
✨ Rook ~ anything but basic ✨
If you're extroverted, funny, generous and anything but basic - the rook piercing is destined for you. While the helix is a more traditional choice, you're destined to stand out from the crowd. The rook piercing is also super versatile as you can choose either a bar or hoop. In terms of healing, a rook piercing can take anywhere between six and nine months to heal. What's more, it's been said that a rook piercing can help to release stress - dreamy.
✨ Outer Conch ~ expressive ✨
You're expressive, curious and kind. The outer conch is relatively flat, which makes it the ultimate canvas to showcase your creativity (and your new jewels). Opt for a solid gold piece to add a touch of sparkle. It's also been said that the outer conch piercing can have a positive impact on lower back pain and digestion for some people. Rock a barbell for your outer conch to create your signature stack.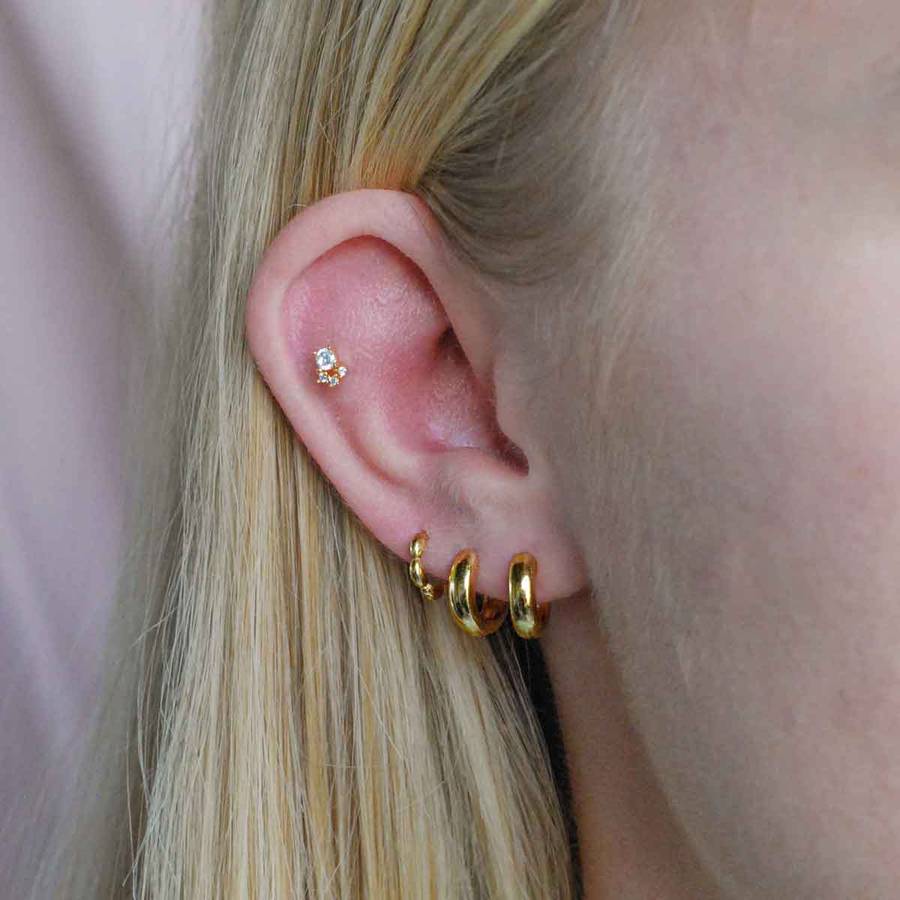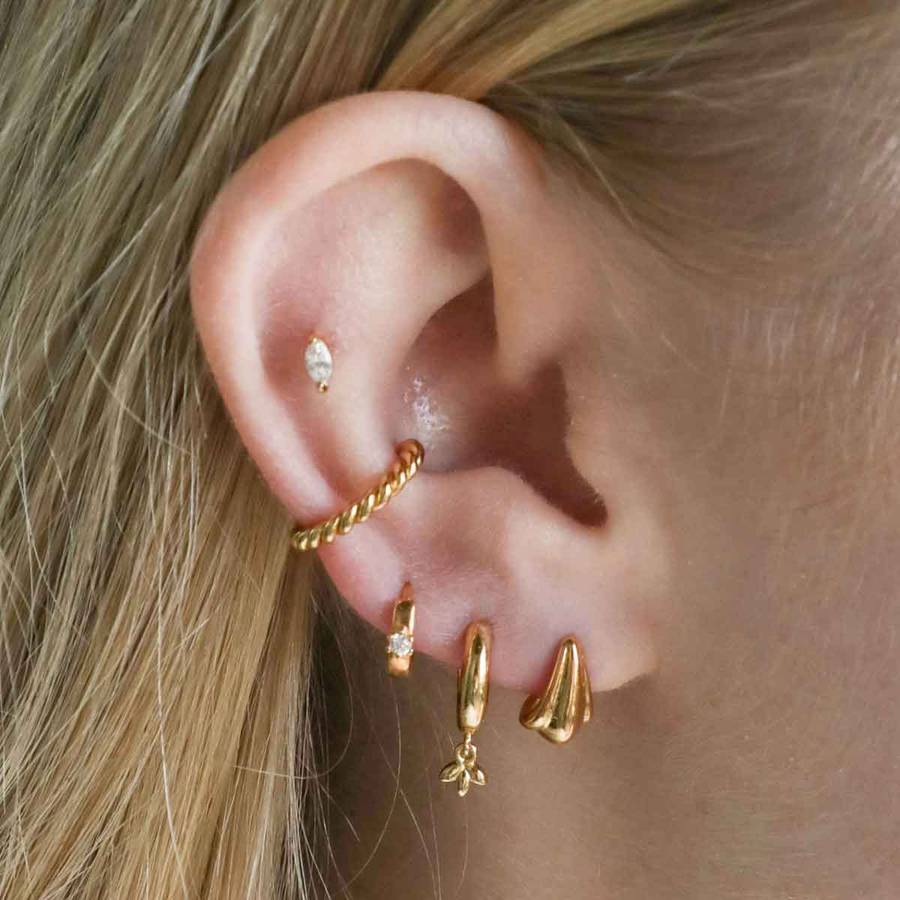 ✨ Forward Helix ~ artistic ✨
You're empathetic, wise and artistic. Just like you, forward helix piercings are popular for a reason. They look super cute and you can get creative with your jewels once your piercing is healed up, allowing you to adjust your look to match your outfit or your mood. A barbell is the perfect jewel for your forward helix. Opt for a super sleek style for everyday or dress it up with some sparkle. The choice is yours, honey.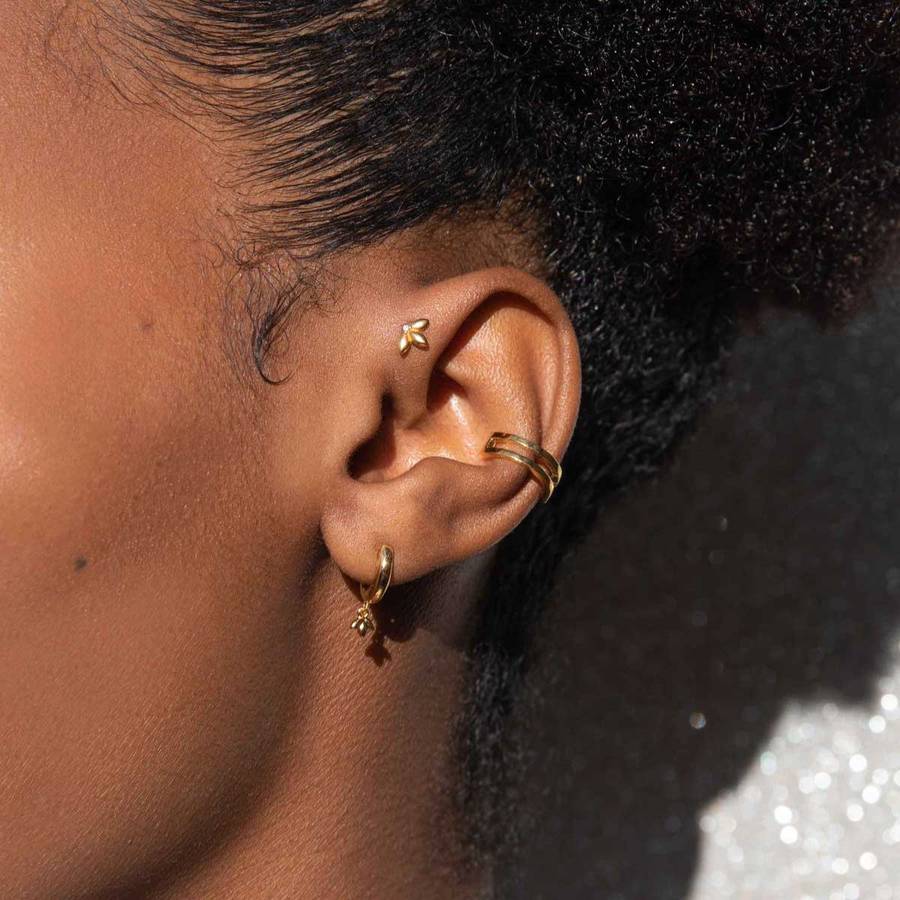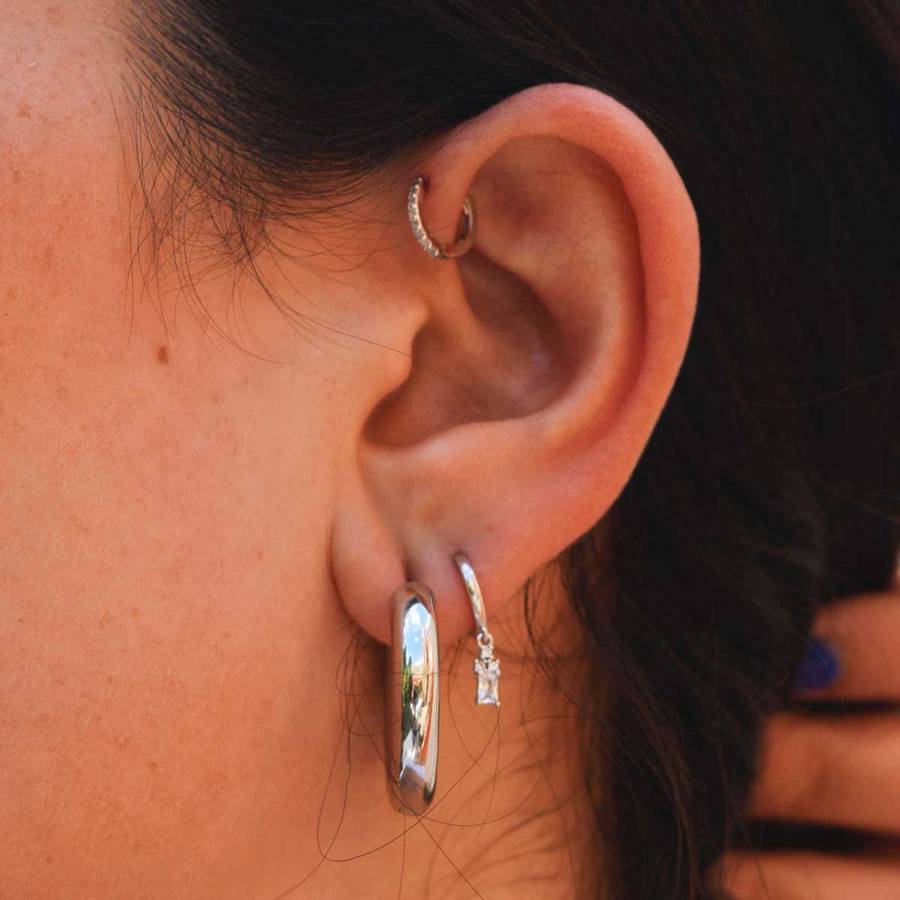 Craving that just pierced feeling?
Get the stack of your dreams in our piercing studios across London & the rest of the UK. Choose from titanium or solid gold jewellery and our expert piercers will help with piercing placement and aftercare. What are you waiting for?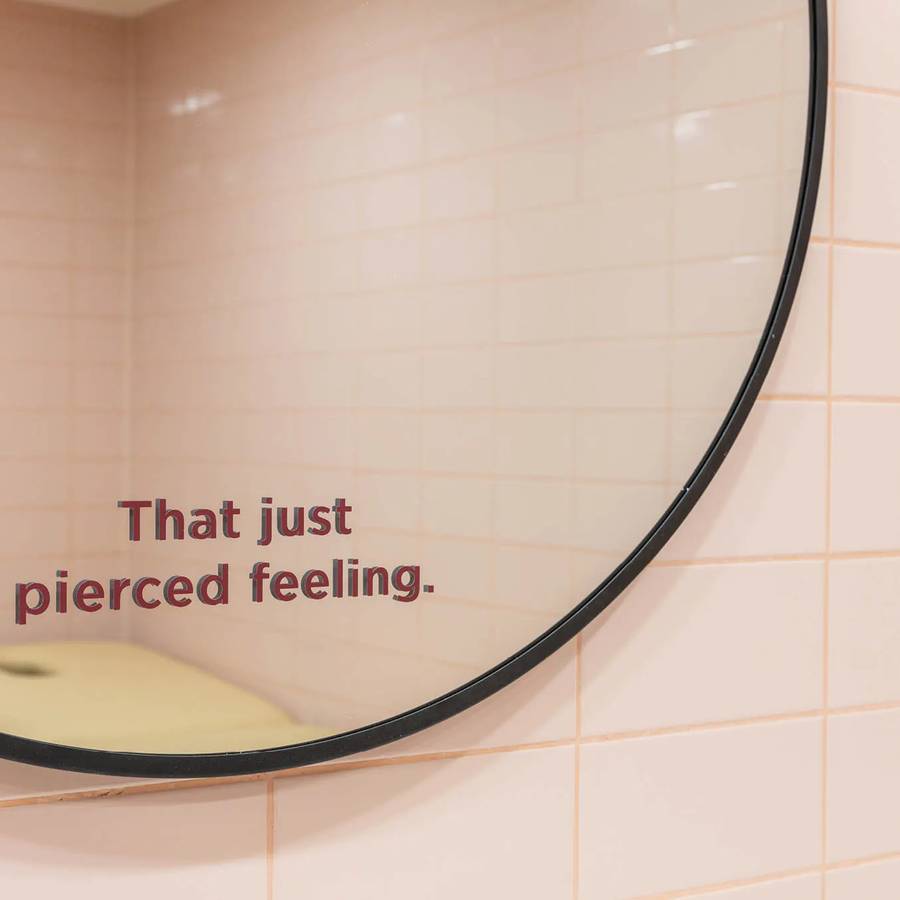 #MUSESOFAM
If you're loving A&M don't forget to follow and tag us on Instagram with our brand new GIFS for some seriously cute A&M Insta-stories. To use our GIFs simply open your Instagram story, swipe up to reveal the sticker section, click on GIPHY, search 'astridandmiyu' and decorate your stories to your heart's content!