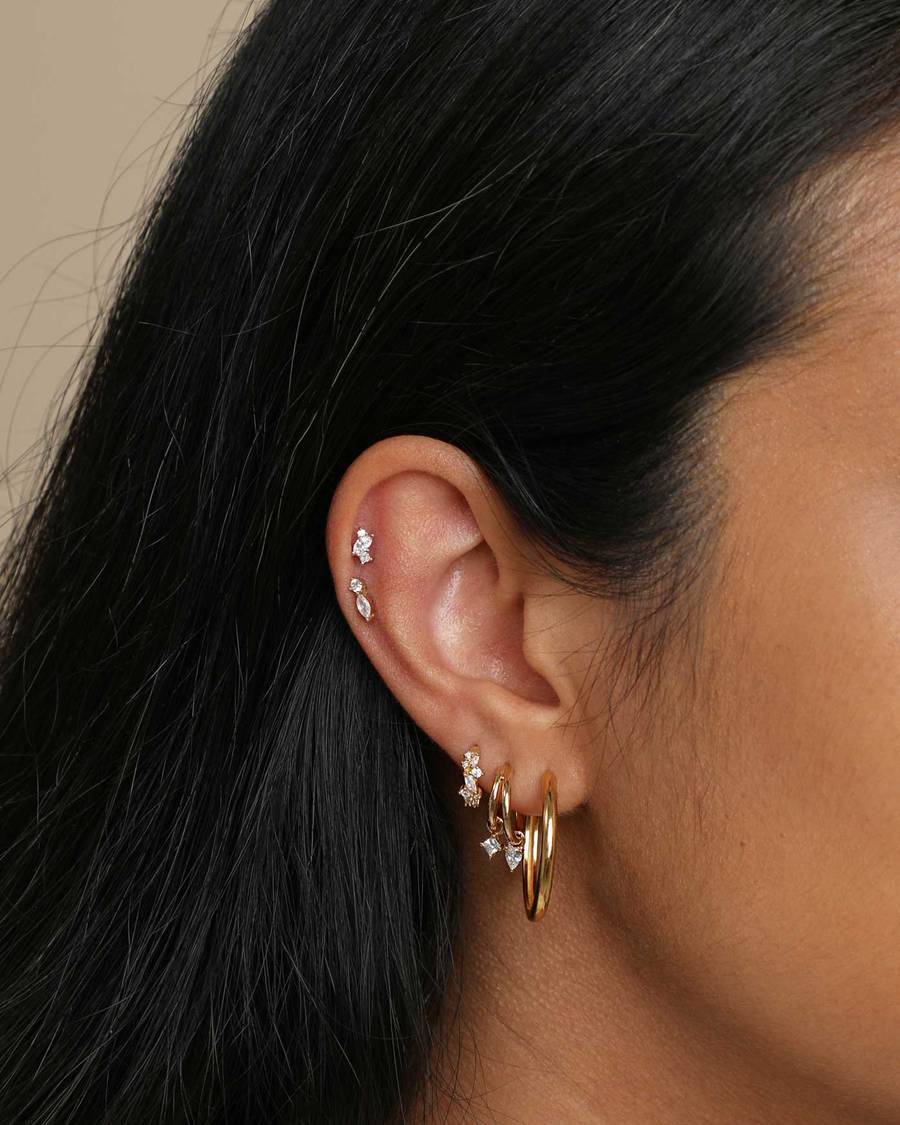 Our ultimate guide to ear piercings
THE EAR PIERCING BIBLE
We love to stack and style our earrings, and the first step is to get pierced. Here is our one-stop-shop guide for all things piercing to help you plan your stack!
Back to articles
You can visit our dreamy piercing studios across the UK to start curating your own look, where our expert piercers will guide you through the process. But, if you want to do a little research before you visit, we've created the Ear Piercing Bible.
Ear Piercing Placements
For such a small body part, there are so many piercings to choose from. Our glossary explains all their names (so you can ask your piercer for exactly what you want). We recommend coming to your appointment with an open mind, as our piercer will work with your personal anatomy to find your perfect piercing.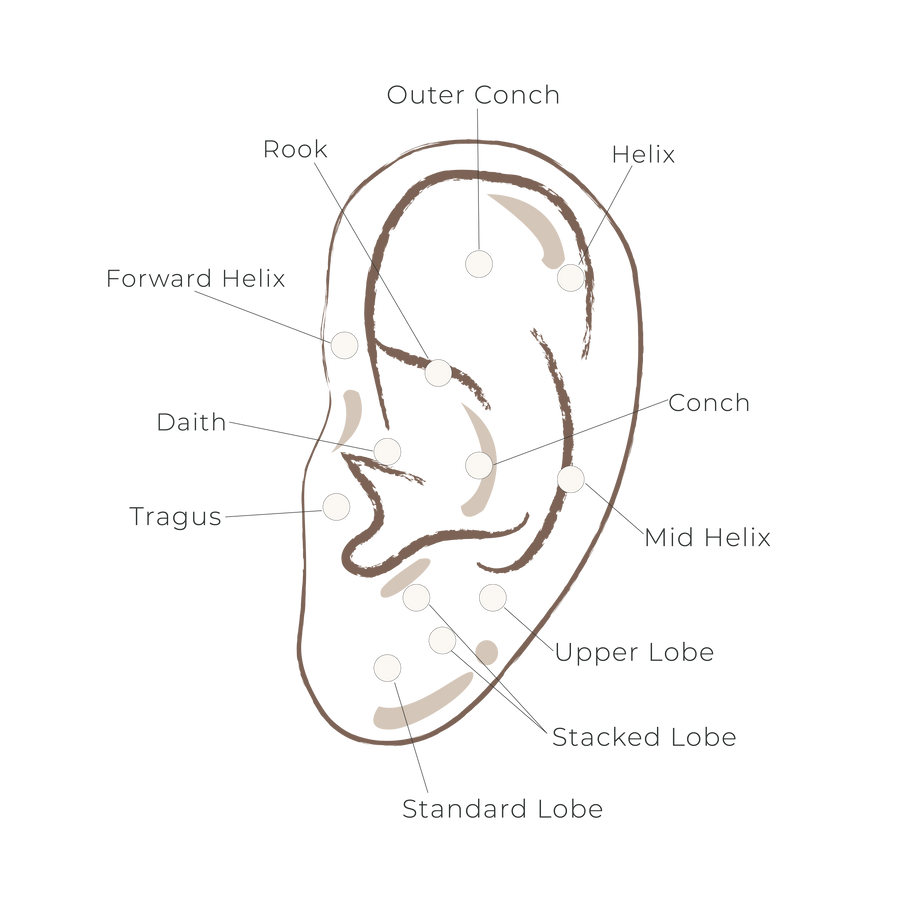 Meet our expert piercers
Watch our guide on everything from piercing placement to debunking piercing myths with our very own expert piercers, Darylle & Charlotte.
What earrings should I choose for a new piercing? 
When you arrive at the A&M Piercing Studios, our in-store stylist will help you choose the type of jewellery you want to be pierced with. They'll recommend styles based on your ear and the piercing placement, but you can choose between a stud or a hoop, titanium or 14k gold, and sparkling or simple styles.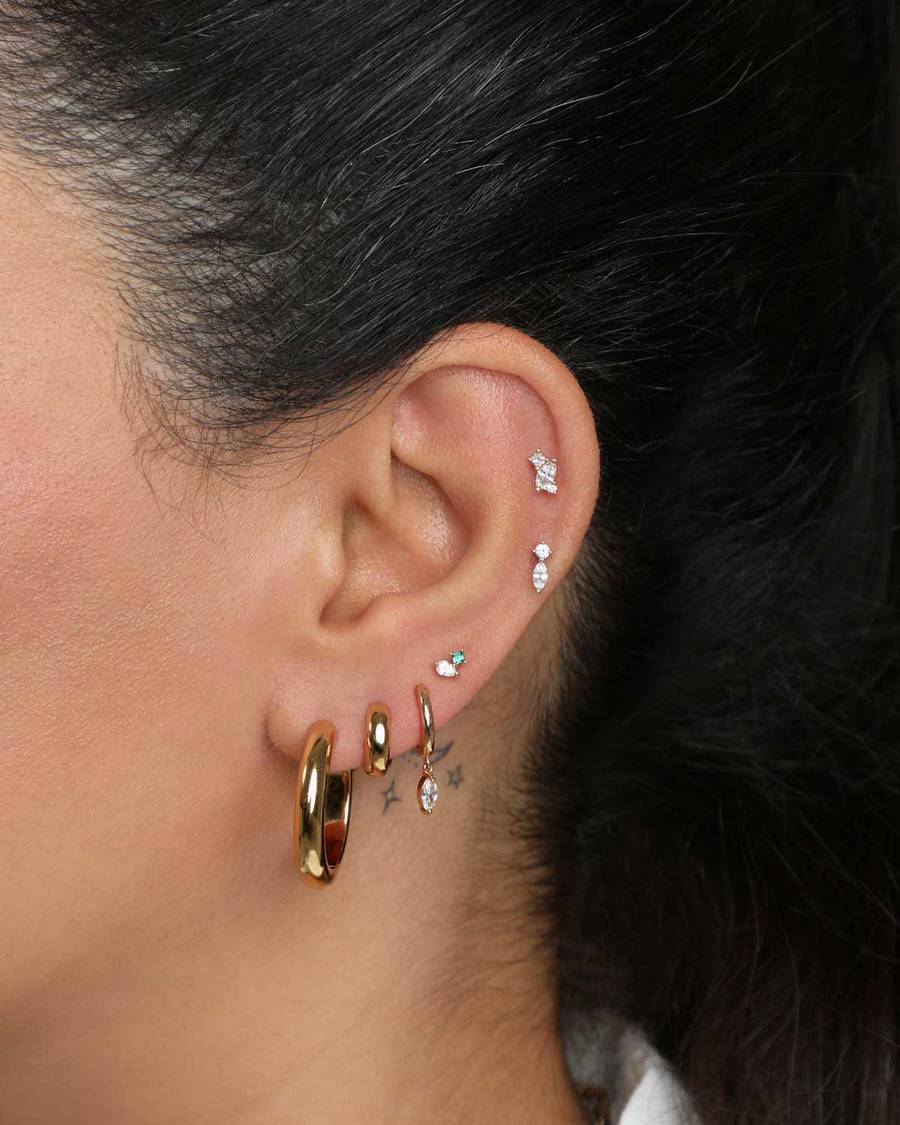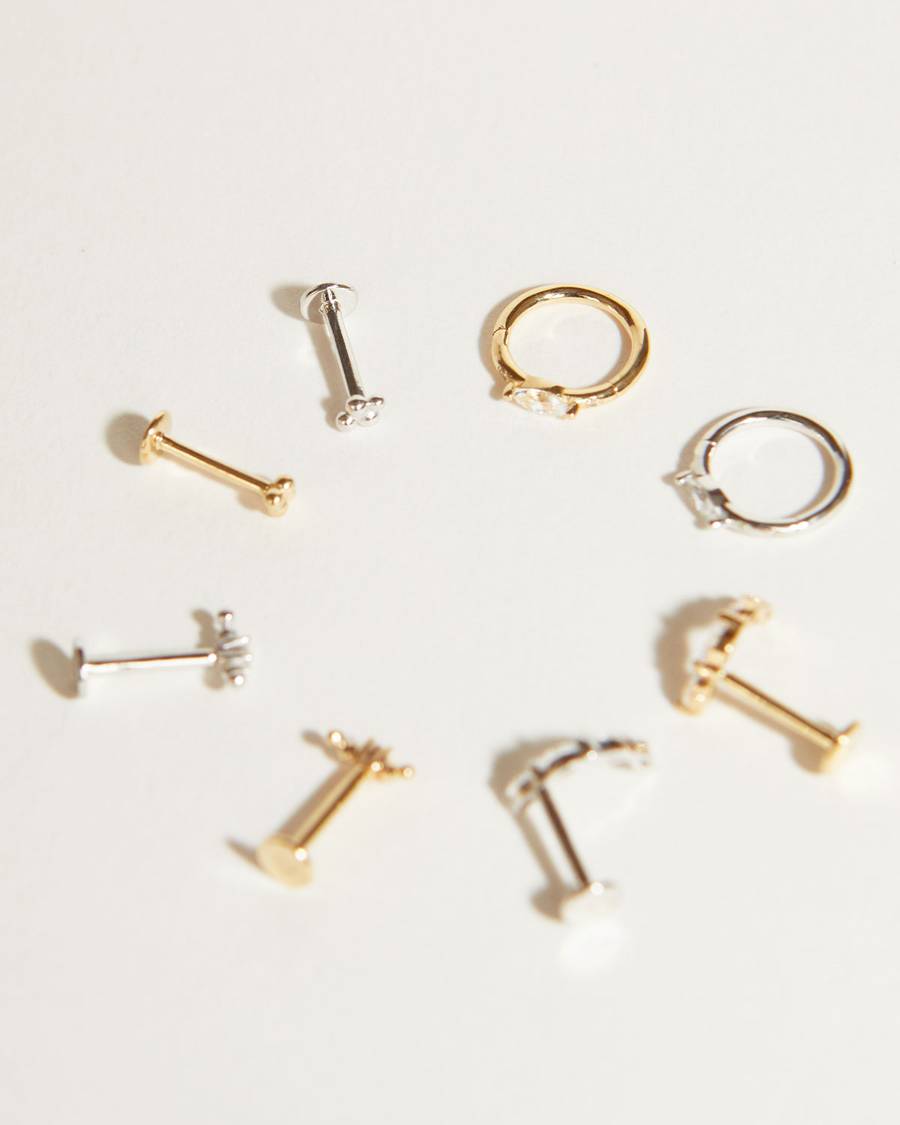 How to change your piercing jewellery
Want to switch up your jewels? Changing your piercing is all dependent on how your piercing is healing. We recommend waiting at least 2-3 months for lobe piercings and 6 months for cartilage, but if your piercing is still painful after that time you should wait a little longer. If your piercing is irritated after you change the jewellery, we recommend going back to your piercing care routine until it calms down. You can get in contact with your piercer if you have any questions, or book a Jewellery Change Appointment online.
How to look after your piercing
Your piercing will need some aftercare for a happy and healthy healing process. You can read our Aftercare Guide here, with our top cleaning tips and things to steer clear of while your piercing is healing.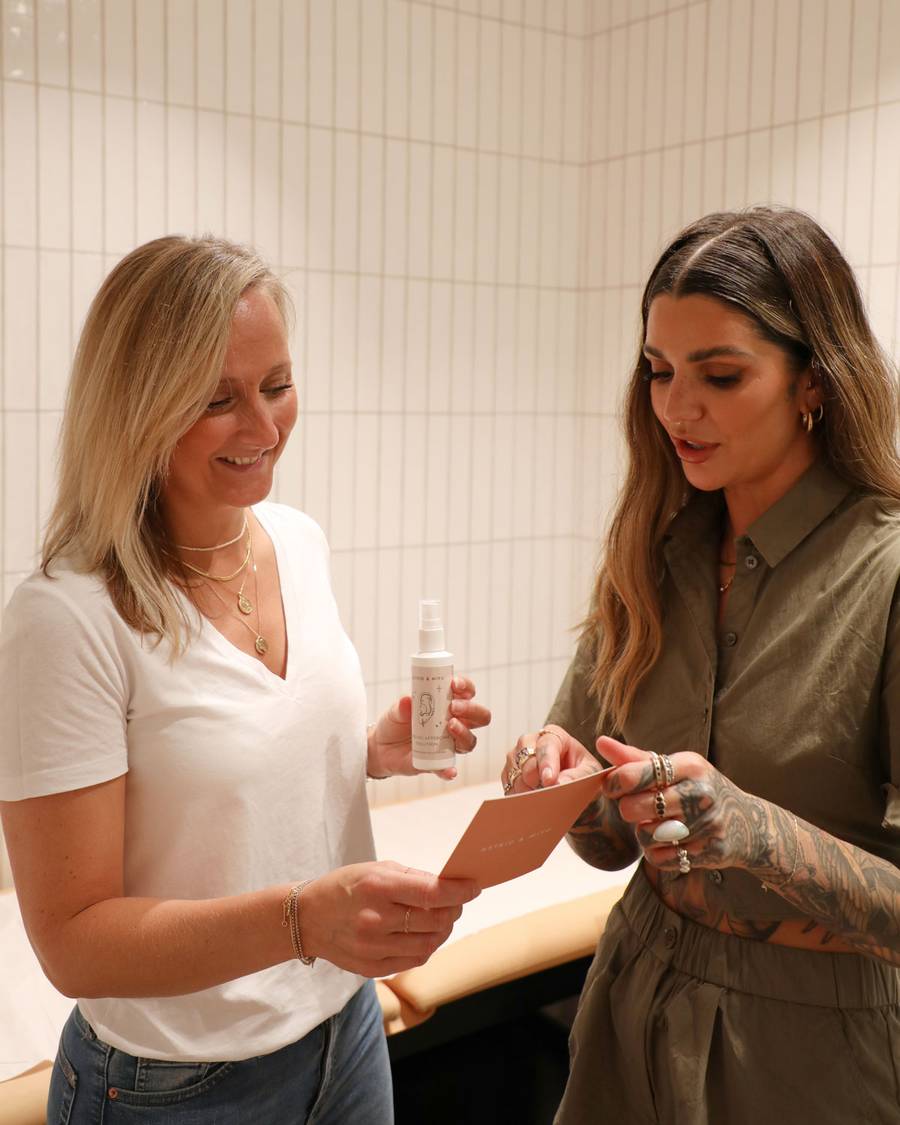 What your piercings say about you
Piercings are a great way to show off your personality and own unique style. We've picked out our top picks of piercings, based on different personality traits.
So whether you're looking to get a new piercing, or you've already got piercings and you're keen to hear what they say about your style, keep scrolling to discover your piercing personality.
Lobe
You're chic, organised and opt for a minimalist lifestyle. Your 'less is more' approach means a lobe piercing is perfect for you. It's the white T-shirt of the piercing world - an essential base to build your curated ear (but it's anything but basic). You can even try our Illusion Collection, where you can get the look of multiple earrings with only one piercing!
Conch
You're confident and effortlessly stylish. The conch piercing is one of our most popular placements of the moment, and takes centre stage of any ear stack. We pierce conch piercings with a stud, but once it's healed you can change it to a hoop - the choice is yours!
Outer conch
You're expressive, curious and kind. The outer conch is a relatively flat surface, which makes it the ultimate canvas to showcase your creativity (and your new jewels). We pierce the outer conch with a stud, and you can change it to any of our barbells once it's healed.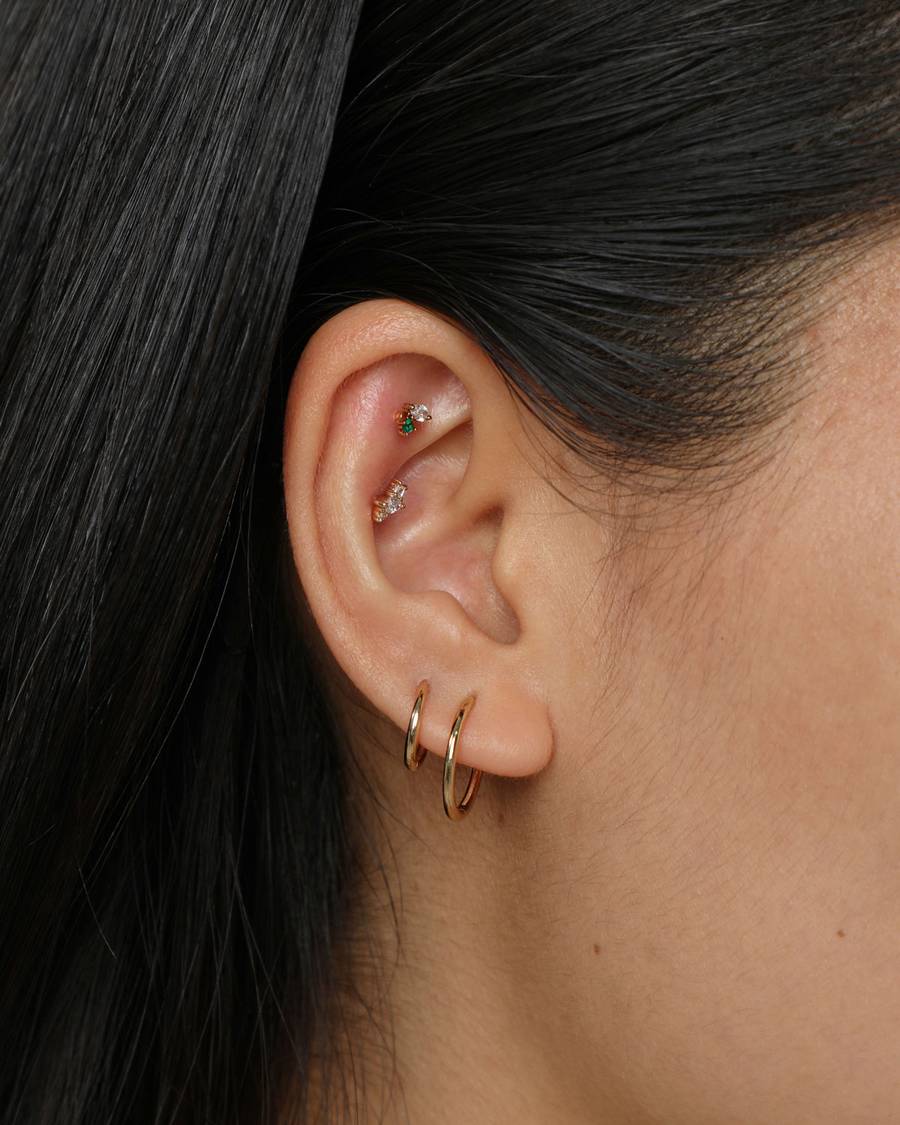 Tragus
You're creative, subtle and a trail-blazer. The tragus piercing is anything but basic, especially when you coordinate your jewellery with your lobe piercings. Depending on your anatomy, you can get pierced with any of our piercing studs; we love adding crystal details to tragus piercings.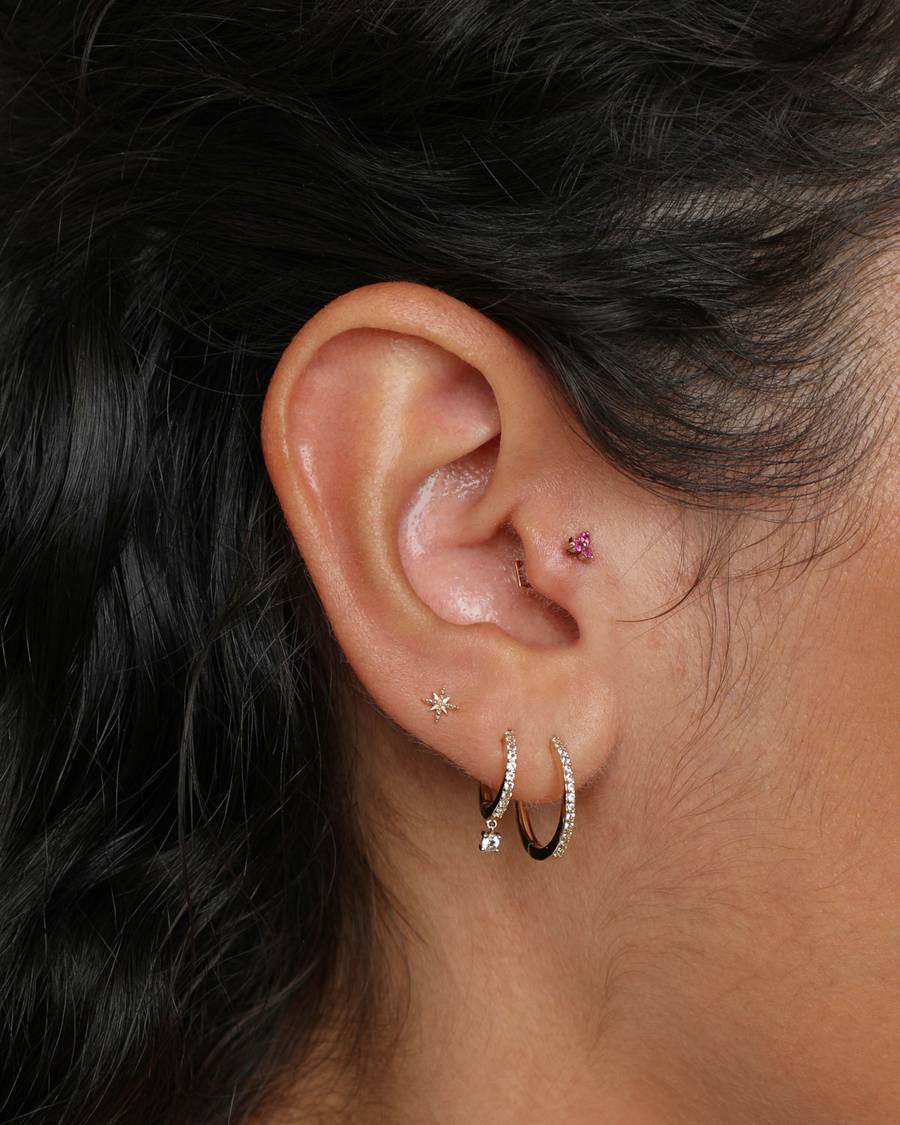 Daith
You're passionate, ambitious and bold, that's why you deserve a piercing as shining as you are. You can get pierced with any of our daith hoops, and we even have daith hoops available online for your healed piercings. Plus, a lot of people find that they have a smooth healing process with daith piercings, because of its tucked away placement inside the ear.
Rook
If you're extroverted, fun-loving and charming, the rook piercing is made for you. While the helix is a more traditional choice, a rook piercing is a striking way to add extra sparkle to your stack. It's also super versatile as you can choose either a bar or hoop in our Piercing Studios.
Helix
You're social, fun and positive. If you're looking for a classic look that still makes a statement, a helix piercing is perfect for you. Team it with a mixture of hoops and ear cuffs to create your own dreamy stack. We pierce helix piercings with either a stud or a hoop, depending on your ear anatomy.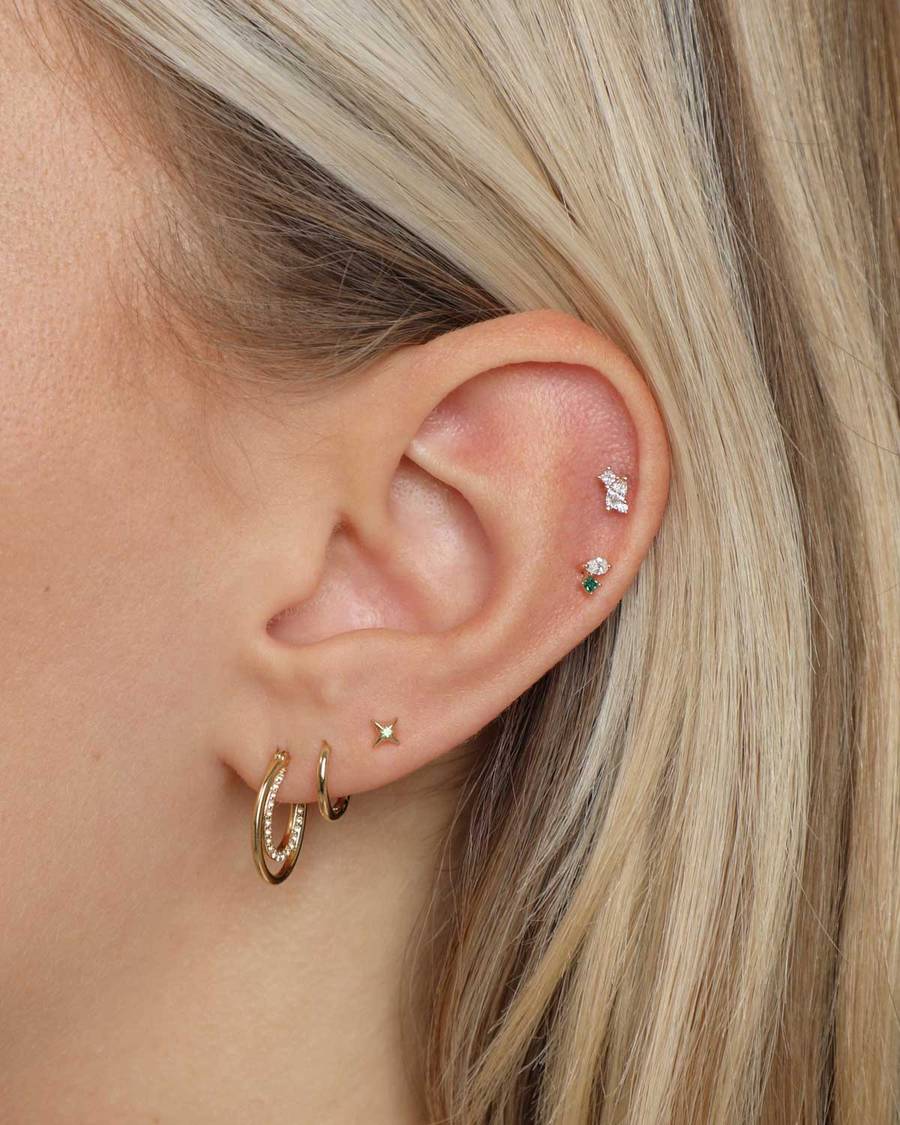 Forward Helix
You're empathetic, wise and artistic. Just like you, forward helix piercings are popular for a reason. Choose a dainty piece for your forward helix piercing, or opt for a sparkly stud to add a statement.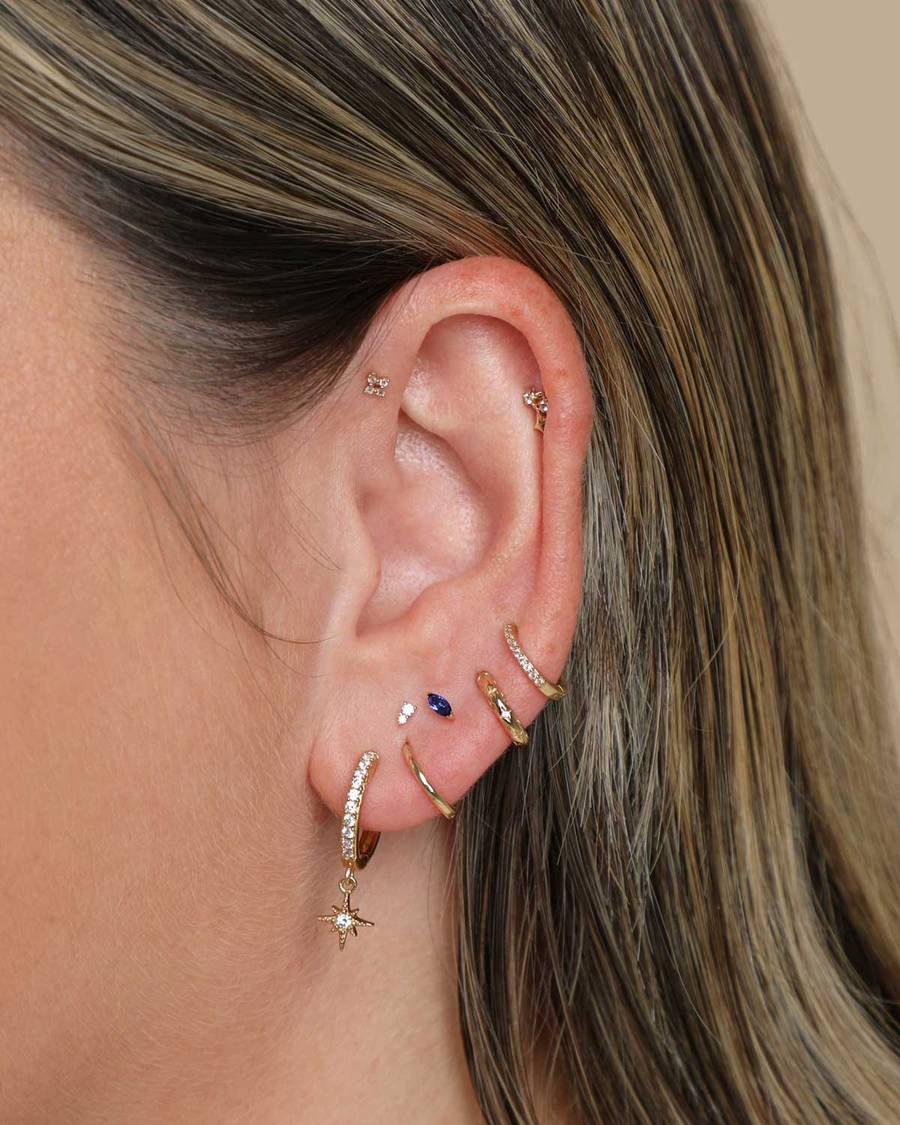 Craving that just pierced feeling?
Get the stack of your dreams in our piercing studios across London & the rest of the UK. Choose from titanium or solid gold jewellery and our expert piercers will help with piercing placement and aftercare. What are you waiting for?